01-12-2014 | Artikelen | Uitgave 4/2014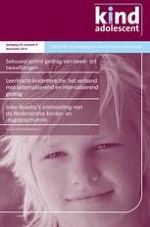 Leerkrachtkindinteractie: het verband met externaliserend en internaliserend gedrag
Tijdschrift:
Auteurs:

Debora L. Roorda, Helma M.Y. Koomen, Jantine L. Spilt, Jochem T. Thijs, Frans J. Oort
Belangrijke opmerkingen
Dit is een Nederlandse bewerking van het oorspronkelijke artikel: Roorda, D. L., Koomen, H. M. Y., Spilt, J. L., Thijs, J. T., & Oort, F. J. (2013). Interpersonal behaviors and complementarity in interactions between teachers and kindergartners with a variety of externalizing and internalizing behaviors.
Journal of School Psychology, 51,
143–158. Dit onderzoek werd mede mogelijk gemaakt door een subsidie (nummer: 411–03-011) van de Nederlandse Organisatie voor Wetenschappelijk Onderzoek toegekend aan dr. Helma Koomen en de FMG-UvA Research Priority Grant voor Affect Regulatie.
Samenvatting
In deze studie werd onderzocht of het interactieve gedrag van leerkrachten en kinderen verband houdt met de mate van externaliserend en internaliserend gedrag van kinderen. In totaal werden 48 leerkrachten en 179 kleuters geobserveerd in een kleine groepssetting in het klaslokaal. Onafhankelijke beoordelaars scoorden het interactieve gedrag van leerkrachten en kinderen (controle en affiliatie). Leerkrachten rapporteerden op de
Behavior Questionnaire for Two- to Six-Year-Olds-Modified
over externaliserend en internaliserend gedrag. Uit de multilevel regressieanalyses bleek dat leerkrachten zowel controlerender als vriendelijker waren naar kinderen met internaliserend gedrag, terwijl deze kinderen zelf minder initiatief en minder vriendelijkheid vertoonden naar de leerkracht. Leerkrachten waren minder vriendelijk naar kinderen met externaliserend gedrag, terwijl deze kinderen zelf niet minder vriendelijk waren dan andere kinderen. Leerkracht-kindinteracties kunnen verbeteren, indien leerkrachten minder controlerend zijn naar internaliserende kinderen en warmer en vriendelijker naar externaliserende kinderen.