01-10-2009 | Original Paper | Uitgave 10/2009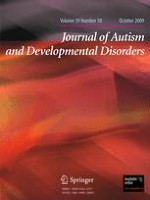 Laughter Differs in Children with Autism: An Acoustic Analysis of Laughs Produced by Children With and Without the Disorder
Tijdschrift:
Auteurs:

William J. Hudenko, Wendy Stone, Jo-Anne Bachorowski
Belangrijke opmerkingen
Authors and affiliations at the time of the study
: William Hudenko, Graduate Student, Vanderbilt University, Nashville, TN; Wendy Stone, Professor of Pediatrics, Vanderbilt University Medical Center, Nashville, TN, Professor of Psychology & Human Development, Vanderbilt University; Jo-Anne Bachorowski, Associate Professor, Vanderbilt University, Nashville, TN.
Changes in author affiliation
: William Hudenko is now Assistant Professor at Ithaca College, Ithaca, NY.
Abstract
Few studies have examined vocal expressions of emotion in children with autism. We tested the hypothesis that during social interactions, children diagnosed with autism would exhibit less extreme laugh acoustics than their nonautistic peers. Laughter was recorded during a series of playful interactions with an examiner. Results showed that children with autism exhibited only one type of laughter, whereas comparison participants exhibited two types. No group differences were found for laugh duration, mean fundamental frequency (F0) values, change in F0, or number of laughs per bout. Findings are interpreted to suggest that children with autism express laughter primarily in response to positive internal states, rather than using laughter to negotiate social interactions.