01-01-2011 | Onderzoek | Uitgave 1/2011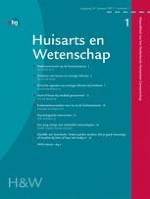 Klinische signalen van ernstige infecties bij kinderen
Tijdschrift:
Auteurs:

MD PhD Ann van den van den Bruel, BA, MSc Tanya Haj-Hassan, MRCGP, MPH, DPhil Matthew Thompson, MD PhD Frank Buntinx, FRCGP, FRCP David Mant, ERNIE-onderzoekers
Belangrijke opmerkingen
clinical lecturer, medical student, senior clinical scientist, hoogleraar, professor
Samenvatting
Van den Bruel A, Haj-Hassan T, Thompson M, Buntinx F, Mant D; ERNIE-onderzoekers. Klinische signalen van ernstige infecties bij kinderen. Huisarts Wet 2011;54(1):7–11.
Doel
Achterhalen welke klinische tests men in ontwikkelde landen zou kunnen gebruiken om in een ambulante setting ernstige infecties bij kinderen aan te tonen of uit te sluiten.
Methode
Systematische review van onderzoeken, gevonden in Medline, Embase, DARE, CINAHL en referentielijsten, en na consultatie van deskundigen. De onderzoeken voldeden aan zes criteria: design (onderzoeken naar diagnostische accuratesse of predictieregels); deelnemers (verder gezonde kinderen tussen 1 maand en 18 jaar); setting (ambulante zorg); uitkomst (ernstige infectie); tests (uitvoerbaar in een ambulante setting); en voldoende data gerapporteerd. Tests met een positieve likelihood ratio (LR+) groter dan 5 beschouwden wij als alarmsignalen; tests met een negatieve likelihood ratio (LR–) kleiner dan 0,2 als uitsluiters.
Resultaten
Wij includeerden dertig onderzoeken, waarvan één gedaan in de huisartsenpraktijk. De betrouwbaarste alarmsignalen voor een ernstige infectie waren cyanose, snelle ademhaling, slechte perifere circulatie en petechiën. In de huisartsenpraktijk zijn ook ongerustheid bij de ouders (LR+ 14) en een 'nietpluisgevoel' bij de arts (LR+ 23) sterke alarmsignalen, en in settings met een lage prevalentie is een temperatuur boven 40 °C eveneens een alarmsignaal. Geen enkele klinische test bleek een ernstige infectie te kunnen uitsluiten, maar enkele eenvoudige combinaties kunnen dit wel – bijvoorbeeld pneumonie is erg onwaarschijnlijk (LR– 0,07) als het kind niet kortademig is en de ouders niet ongerust zijn. De Yale Observation Scale stelt teleur zowel voor het aantonen (LR+ 1,1–6,7) als voor het uitsluiten van ernstige infecties (LR– 0,16–0,97).
Conclusie
Huisartsen moeten bij een ziek kind altijd bedacht zijn op alarmsignalen voor ernstige infecties, maar zullen nooit alle ernstige infecties tijdig signaleren. Een goede vangnetstrategie is daarom noodzakelijk, met inschakeling van de ouders. De arts zou daarbij explicieter moeten aangeven bij welk risiconiveau hij tot actie overgaat.