24-02-2017 | Artikel | Uitgave 2/2017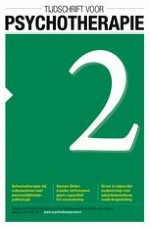 Klinische schematherapie bij volwassenen met persoonlijkheidspathologie die onvoldoende profiteerden van eerdere behandelingen
Tijdschrift:
Auteurs:

Grietje M. Schaap, Farid Chakhssi, Gerben J. Westerhof
Belangrijke opmerkingen
This material originally appeared in English as Schaap, G.M., Chakhssi, F. & Westerhof, G.J. (
2016
). Inpatient schema therapy for adults with personality pathology: Associations with changes in symptomatic distress, schemas, schema modes, coping styles and positive mental health.
Psychotherapy, 53
, 402–412. Copyright © 2016 American Psychological Association. Translated and reproduced [or adapted] with permission. The American Psychological Association is not responsible for the accuracy of this translation. This translation cannot be reproduced or distributed further without prior written permission from the APA.
Samenvatting
Dit onderzoek betreft een evaluatie van groepsschematherapie (ST) op een klinische afdeling, bij patiënten met persoonlijkheidspathologie die onvoldoende profiteerden van eerdere behandelingen. Voor en na de behandeling werden 42 patiënten onderzocht; 35 patiënten werden een half jaar na beëindiging van de behandeling nogmaals onderzocht (follow-up). Er was 35 % uitval gedurende de behandeling. De uitvallers verschilden niet significant van de patiënten die de behandeling afgemaakt hebben wat betreft demografische en klinische variabelen, behalve dat bij de uitvallers de diagnose stemmingsstoornis minder vaak voorkwam. De resultaten van een intentie-tot-behandelinganalyse laten zien dat er significante verbeteringen zijn in maladaptieve schema's, schemamodi, copingstijlen, welbevinden en het actuele klachtenniveau na de behandeling. Daarentegen was er geen significante verandering in ervaren opvoedingsstijl. Deze verbeteringen bleven overeind bij follow-up. Veranderingen in maladaptieve schema's en schemamodi gemeten bij aanvang en na afloop van de behandeling waren voorspellend voor het actuele klachtenniveau bij follow-up. In het algemeen laten de resultaten zien dat, met een klinische ST-behandeling, positieve verandering mogelijk is voor patiënten die eerder onvoldoende profiteerden van andere behandelingen. Deze resultaten zijn vergelijkbaar met de resultaten van behandeling bij patiënten met persoonlijkheidspathologie zonder een uitgebreide behandelingsgeschiedenis.