01-02-2011 | artikelen | Uitgave 1/2011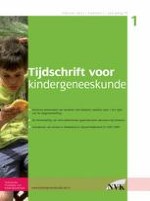 Klinische presentatie van kinderen met diabetes mellitus type 1 ten tijde van de diagnosestelling
Tijdschrift:
Auteurs:

Mw. drs. Christi van Ommen, mw. Aly van Pruijs-Brands, dhr. drs. Gert J. van der Vlist, dhr. dr. Wouter J. de Waal
Samenvatting
Doel
. Identificeren van presenterende symptomen en risicofactoren van diabetische ketoacidose (DKA) en evaluatie van het diagnostisch traject bij nieuw gediagnosticeerde diabetes mellitus type 1 (DM1).
Opzet
. Retrospectieve studie.
Methoden
. 81 kinderen met nieuw gediagnosticeerde DM1 tussen januari 1999 en september 2006 in het Diakonessenhuis locatie Utrecht/Zeist werden geїncludeerd. Symptomatologie en laboratoriumwaarden bij presentatie werden bestudeerd. Middels een vragenlijst aan patiënt, ouders en verwijzende huisarts (HA) werd geїnformeerd naar de verstreken tijd tussen optreden van symptomen en eerste bezoek aan HA (patient's delay in dagen (PD)), het diagnostisch traject ingezet door HA, en moment van insturen (doctor's delay in uren (DD)).
Resultaten.
DKA werd gezien bij 13/81 patiënten (16%). De incidentie verschilde niet tussen de verschillende leeftijdsgroepen. Naast polyurie en polydipsie trad opnieuw bedplassen bij oudere kinderen frequent op. Ook recidiverende candidiasis werd vaak gezien. Er werd geen relatie gevonden tussen de ernst en optreden van DKA en de duur van DD. Het PD was significant kleiner in de groep met DKA. Het HbA1c was gecorreleerd met zowel de leeftijd bij presentatie als de mate van PD. De verschillende diagnostische testmethoden bleken een significant verschil in mate van DD op te leveren.
Conclusie
. Onze studie laat in de onderzochte regio geen duidelijk verhoogd risico zien op DKA bij jonge kinderen met DM1, mogelijk wijzend op adequate medical awareness. Extrapolatie naar landelijke data is niet mogelijk en pleit voor de opzet van een landelijke registratie. Intrinsieke factoren leiden bij jonge kinderen wellicht tot snellere metabole ontregeling. Naast bekende kernsymptomen zijn opnieuw bedplassen en recidiverende candidiasis suggestief voor DM1. Bij vermoeden op DM1 dient direct een bloedsuikerbepaling te worden gedaan.
Summary
Objective
. Identification of presenting symptoms and risk factors for development of diabetic ketoacidosis (DKA) and evaluation of the diagnostic pathway taken with newonset diabetes mellitus type 1 (DM1).
Design.
Retrospective study.
Methods.
81 children diagnosed with DM1 from January 1999 to September 2006 in the Diakonessenhuis location Utrecht/Zeist were included. Symptoms and laboratory results were studied. A questionnaire was sent to patients, parents and referring general practitioner (GP) addressing the elapsed time between occurrence of symptoms and first visit to GP (patient's delay in days (PD)), the diagnostic pathway taken by GP and elapsed time until referral (doctor's delay in hours (DD)).
Results.
DKA was found in 13/81 patients (16%). Incidence did not differ between different age groups. Besides classic symptoms of DM1, recurrent candidiasis and renewed bedwetting were frequently observed. PD and DD were not significantly correlated with age at diagnosis. No relationship was observed between incidence and severity of DKA, and age at diagnosis and presence and severity of DD. PD was significantly shorter in children with DKA. HbA1c was significantly correlated with both age at diagnosis and degree of PD. A significant difference was observed in presence and degree of DD between diagnostic tests.
Conclusion.
In our study region we observed no increased risk of DKA in young children possibly indicating adequate medical awareness. Extrapolation to national data however, is difficult and should therefore plea in favour of a national registry. In young children, intrinsic factors might be associated with more rapid metabolic decompensation. Besides well-known classic symptoms, recurrence of bedwetting and recurrent candidiasis should arouse suspicion on DM1. Assessment of a random serum glucose is recommended whenever DM1 is suspected.