01-03-2002 | Onderzoek | Uitgave 3/2002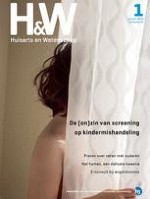 Klinisch beeld en prognose van sympathische reflexdystrofiebewegingsapparaat literatuuronderzoek onderzoek pijn prognose reflexdystrofie
Een systematisch overzicht
Tijdschrift:
Auteurs:

dr. Pieter van den Berg, dr. Sita Bierma-Zeinstra, Bart Koes
Belangrijke opmerkingen
Instituut voor Huisartsgeneeskunde, Erasmus Universiteit Rotterdam, Postbus 1738, 3000 DR Rotterdam: dr. P.J. van den Berg, huisarts in opleiding en epidemioloog; dr. S.M.A. Bierma-Zeinstra, gezondheidswetenschapper en senioronderzoeker; prof dr. B.W. Koes, epidemioloog, hoogleraar onderzoek huisartsgeneeskunde.
Correspondentie: P.J. van den Berg, Mogelijke belangenverstrengeling: niet aangegeven.
Van den Berg PJ, Bierma-Zeinstra SMA, Koes BW. Complex Regional Pain Syndrome. A systematic review of its clinical manifestations and prognosis. Huisarts Wet 2002;45(3):114-8.
Introduction
The Complex Regional Pain Syndrome has been studied in the literature for more than a century. This article aims at summarising the reported information on the clinical findings and prognosis of CRPS type 1 in children and adults.
Methods
We conducted a systematic literature search in Medline. All studies that aimed at describing clinical findings or prognosis were selected. Additional selection criteria were (a) sufficient detail in reporting inclusion criteria and follow-up time (b) high participation rates and no major losses to follow-up and (c) being written in English, French, German or Dutch. All clinical findings or prognostic endpoints that were described by two or more authors are reported.
Results
We included 20 studies focussing on clinical findings (11), prognosis (6) or both (3). Three studies reported prognostic factors. Clinical findings can be categorised as inflammatory, neurological, atrophic or sympathetic. No single clinical finding was described to be present in all patients. For most patients in this review the prognosis was favourable. Nevertheless, mild symptoms such as pain (17-58%) or stiffness (55-65%) frequently persist; serious complications (7%) or recurrence occur in a minority. Younger age and a cold extremity at diagnosis may predict unfavourable outcome.
Conclusion
The spectrum of clinical findings in CRPS type 1 patients is well described in the literature. However, there is a paucity of data on the natural history and prognostic factors of CRPS type 1, especially among primary care patients. This information is as important for patients suffering from CRPS as for physicians evaluating the effectiveness of their treatments.
Abstract
Van den Berg PJ, Bierma-Zeinstra SMA, Koes BW. Klinisch beeld en prognose van sympathische reflexdystrofie. Een systematisch overzicht. Huisarts Wet 2002;45(3):114-8.
Doel
Het klinisch beeld, de prognose en prognostische factoren van sympathische reflexdystrofie bij volwassenen en kinderen worden beschreven.
Methode
Er is een systematisch literatuuronderzoek gedaan zowel naar onderzoeken die het het klinisch beeld beschrijven als naar onderzoeken over de prognose. De onderzoeken moesten voldoende deelnemers hebben en deelnemers en de follow-uptijd moesten duidelijk omschreven zijn.
Resultaten
We vonden twintig onderzoeken, waarvan elf als onderwerp het klinisch beeld hadden, zes de prognose en drie beide. Het klinisch beeld bestaat uit ontstekingsachtige, neurologische, atrofische en sympathische verschijnselen. Voor de meerderheid van de patiënten is de prognose gunstig.
Restverschijnselen zoals pijn (17-58%) en stijfheid (55-65%) of ernstige complicaties (7%) komen echter geregeld voor. Wanneer het ziektebeeld bij jonge mensen voorkomt of wanneer de extremiteit in het eerste stadium van het ziektebeeld koud aanvoelt, voorspelt dit een ernstiger beloop.
Conclusie
Het klinisch beeld en in mindere mate de prognose van sympathische reflexdystrofie in de tweede en derde lijn zijn redelijk omschreven. In hoeverre deze gegevens ook toepasbaar zijn op patiënten in de eerste lijn is nog moeilijk vast te stellen.