01-08-2011 | Nascholing | Uitgave 8/2011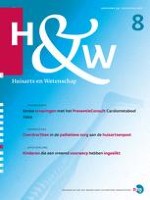 Kinderen die een vreemd voorwerp hebben ingeslikt
Tijdschrift:
Auteurs:

D.H.J. Pols, dr. J.C. van der Wouden, prof.dr. P.J.E. Bindels
Belangrijke opmerkingen
Mogelijke belangenverstrengeling: niets aangegeven.
huisarts
universitair hoofddocent
Samenvatting
Pols DHJ, Van der Wouden JC, Bindels PJE. Kinderen die een vreemd voorwerp hebben ingeslikt. Huisarts Wet 2011;54(8):444-8.
Kinderen slikken soms vreemde voorwerpen in, waarna de ouders hen meenemen naar de huisarts. Een goed beleid bij ingeslikte voorwerpen kan ernstige complicaties voorkomen, maar men moet tevens waken voor overdiagnostiek en overbehandeling. Een gerichte anamnese en een algemeen lichamelijk onderzoek, met aandacht voor de vitale functies, vormen de hoeksteen voor het beleid. Als aanvullend diagnosticum heeft de huisarts de röntgenfoto tot zijn beschikking. (Spoed)verwijzing naar de tweede lijn is noodzakelijk indien er sprake is van 'rode vlaggen'. Dit betreffen patiënten die ABC-instabiel zijn, die tekenen van ontsteking (koorts) of obstructie (buikpijn, kwijlen en overgeven) hebben en patiënten bij wie sprake is van aanwijzingen voor bloedingen (hematemesis en melaena). De huisarts moet eveneens verwijzen als het vreemde voorwerp een (knoop)batterij betreft, indien hij vermoedt dat het kind verschillende magneten heeft ingeslikt en als het voorwerp lang (> 5cm) of scherp is. Men moet ook altijd bedacht zijn op het risico voor intoxicatie. Bij patiënten die geen verhoogd risico hebben op een gecompliceerd beloop en zonder de bovengenoemde 'rode vlaggen', kan men in principe voor een afwachtend beleid kiezen. Munten, knikkers en andere kleine stompe objecten zullen vaak spontaan binnen vier tot zes dagen het maag-darmkanaal passeren, zonder verdere complicaties. Men moet vooral de eerste drie dagen alert zijn op klachten.