01-10-2012 | Uitgave 7/2012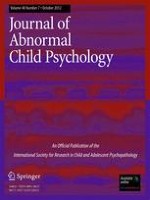 Joint Trajectories of Symptoms of Disruptive Behavior Problems and Depressive Symptoms During Early Adolescence and Adjustment Problems During Emerging Adulthood
Tijdschrift:
Auteurs:

Wendy M. Reinke, J. Mark Eddy, Thomas J. Dishion, John B. Reid
Belangrijke opmerkingen
This research was supported by grant R01 MH054248 from the Prevention Research Branch, NIMH, NIH, U.S. PHS, grant R01 HD054880 to the second and fourth author from the Social and Affective Development/Child Maltreatment and Violence Branch, NICHD, NIH, U.S. PHS, and grants DA07031 and DA16110 from the National Institutes of Health to the third author.
Abstract
The joint, longitudinal trajectories of symptoms of disruptive behavior problems and of depression were examined in a community sample drawn from neighborhoods with elevated rates of delinquency. Growth mixture modeling was applied to a 6 year transition period from childhood to adolescence, age 10 to 16 years, to identify latent classes of trajectories for each symptom type. Several classes emerged for the two types of symptoms, namely a group of youth with high levels of disruptive behavior, a group with increasing levels, and a group with low levels, as well as a group with increasing levels of depression, a group with high levels, a group with decreasing levels, and a group with low levels. Within each symptom type, membership in either the high or in the increasing classes was related to a variety of problematic outcomes during emerging adulthood. The co-occurrence of the disruptive behavior and depression classes was then evaluated using parallel process analysis. Youth exhibiting high depressive symptoms were at increased risk for disruptive behavior problems, and youth with increasing disruptive behavior problems were at risk for depressive symptoms. However, only a very small number of youth had both a high depression trajectory and a high disruptive behavior trajectory. Implications of the findings for the design of prevention and treatment programs are discussed.