01-09-2009 | Brief Communication | Uitgave 7/2009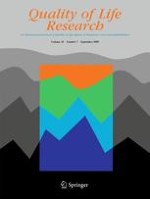 Italian translation of the Manchester-Oxford Foot Questionnaire, with re-assessment of reliability and validity
Tijdschrift:
Auteurs:

Andrea Marinozzi, Nicolò Martinelli, Manlio Panascì, Francesco Cancilleri, Edoardo Franceschetti, Bruno Vincenzi, Alberto Di Martino, Vincenzo Denaro
Abstract
Purpose
To cross-culturally adapt and validate the Italian version of the Manchester-Oxford Foot Questionnaire (MOXFQ) in patients affected by hallux valgus.
Methods
The MOXFQ was translated into Italian and culturally adapted following the forward and backward translation method. A sample of 172 patients with hallux valgus was asked to fill in the MOXFQ and the Short-Form 36 Health Survey (SF-36). Two-week retest was performed on a random sub-sample of 40 patients. Internal consistency and test–retest reliability were assessed using Cronbach's alpha and intraclass correlation coefficient (ICC), respectively. Construct validity was assessed with the use of Spearman's rank correlation coefficient, using a priori hypothesized correlations with SF-36 domains.
Results
The internal consistency reliability was acceptable for all MOXFQ domains (Pain, Walking/standing and Social interaction) with Cronbachs' alpha coefficients ranging from 0.72 to 0.83. The assessment of test–retest reliability reveals satisfactory values with ICCs ranging from 0.85 to 0.92. Construct validity was supported by the presence of all the hypothesized correlation, with the exception of Italian Walking/standing domain with the SF-36 Role-Physical domain (ρ = −0.29).
Conclusions
The Italian version of MOXFQ is a valid and reliable instrument for evaluating foot pain and functional status in patients affected by hallux valgus.