01-01-2011 | Empirical Research | Uitgave 1/2011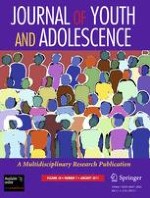 Is Sensation Seeking a Stable Trait or Does it Change Over Time?
Tijdschrift:
Auteurs:

Sarah D. Lynne-Landsman, Julia A. Graber, Tracy R. Nichols, Gilbert J. Botvin
Abstract
The theory of sensation seeking has conceptualized this construct as a stable personality trait associated with a variety of problem behaviors. Reckless behavior theory posits that increases in reckless behavior during adolescence can be attributed, in part, to increases in sensation seeking. This study evaluated patterns of stability and change in sensation seeking among 868 urban, minority youth (53% female), followed longitudinally across middle school (6th–8th grades). Group-based trajectory analysis identified a stable low group (20%), a moderate increasing group (60%), and a stable high group (20%) each of which demonstrated unique associations with changes in problem behaviors. Stable low sensation seekers reported consistently low levels of aggression, delinquency, and substance use across middle school. Moderate increasing sensation seekers reported significant increases in these risk behaviors over time from levels near zero in the 6th grade. Stable high sensation seekers reported high, stable levels of aggression and delinquency upon entry into middle school as well as significant increases in substance use across middle school. These results lend support to both theories and highlight a need for caution when categorizing adolescents as high or low sensation seekers.