01-12-2011 | Original Paper | Uitgave 6/2011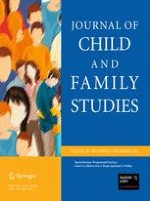 Is Maternal Fatigue Mediating the Relationship Between Maternal Depression and Child Outcomes?
Tijdschrift:
Auteurs:

Carmel Parker White, Kathleen King
Abstract
Fatigue, a subjective state that has been defined as a decreased capacity for physical or mental activity, has many behavioral similarities to depression (e.g., weariness, difficulty concentrating, diminished motivation). We hypothesized that fatigue might mediate the relationship between depression and poor child outcomes. A sample of mothers (14 well women, 57 with multiple sclerosis, and 36 with rheumatoid arthritis) completed an online survey where they reported on their fatigue (using the Modified Fatigue Impact Scale), depression (using the 20-item Center for Epidemiological Studies Depression Scale), child internalizing and externalizing behaviors (using the Child Behavior Checklist), and child prosocial behaviors (using a 10-item abbreviated Positive Behavior Scale). Maternal fatigue mediated the relationship between maternal depression and the total problems T-score on the Child Behavior Checklist but a mediated relationship was not found for the Positive Behavior Scale. Findings are discussed in light of the need to elucidate the relationship between maternal fatigue, depression, and child outcomes.