13-03-2018 | Empirical Research | Uitgave 9/2018 Open Access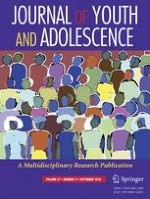 Is Inspiring Group Members an Effective Predictor of Social Dominance in Early Adolescence? Direct and Moderated Effects of Behavioral Strategies, Social Skills, and Gender on Resource Control and Popularity
Tijdschrift:
Auteurs:

Marjolijn M. Vermande, Patricia A. Gilholm, Albert H. A. Reijntjes, Dave J. Hessen, Elisabeth H. M. Sterck, Anne M. Overduin-de Vries
Abstract
Dominance in the peer group is important for adolescents. Resource Control Theory posits that both coercive and prosocial (positively assertive) strategies are associated with dominance. Combining Resource Control Theory with Socioanalytic Theory on personality, we hypothesized that inspiring group members would be an additional effective strategy. This study examined whether the three behavioral strategies and two types of social skills (social competence and manipulation) predicted dominance (resource control and popularity). Participants were 619 Dutch adolescents (
M
age
 = 13.1; 47% female) in the first grade of secondary school. They completed peer reports (behavioral strategies and dominance) and self-reports (social skills). Only inspirational and coercive strategies substantially predicted dominance. Main effects of social skills emerged. Moderation between strategies and social skills was only observed for girls (e.g., coercive strategy use was associated with more popularity for girls with higher levels of social manipulation skills). This study furthered our understanding of the predictors of dominance in adolescence by including inspirational behavior and examining prosocial and antisocial skills.