13-03-2020 | Original Article | Uitgave 3/2021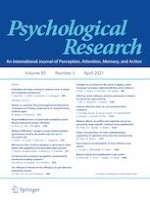 Is 'heavy' up or down? Testing the vertical spatial representation of weight
Tijdschrift:
Auteurs:

Michele Vicovaro, Mario Dalmaso
Belangrijke opmerkingen
Publisher's Note
Springer Nature remains neutral with regard to jurisdictional claims in published maps and institutional affiliations.
Abstract
Smaller numbers are typically responded to faster with a bottom than a top key, whereas the opposite occurs for larger numbers (a vertical spatial–numerical association of response codes: i.e. the vertical SNARC effect). Here, in four experiments, we explored whether a vertical spatial–magnitude association can emerge for lighter vs. heavier items. Participants were presented with a central target stimulus that could be a word describing a material (e.g. 'paper', 'iron': Experiment 1), a numerical quantity of weight (e.g. '1 g', '1 kg': Experiment 2) or a picture associated with a real object that participants weighed before the experiment (Experiments 3a/3b). Participants were asked to respond either to the weight (Experiments 1–3a) or to the size (i.e. weight was task-irrelevant; Experiment 3b) of the stimuli by pressing vertically placed keys. In Experiments 1 and 2, faster responses emerged for the lighter-bottom/heavier-top mapping—in line with a standard SNARC-like effect—whereas in Experiment 3a the opposite mapping emerged (lighter-top/heavier-bottom). No evidence of an implicit weight-space association emerged in Experiment 3b. Overall, these results provide evidence indicating a possible context-dependent vertical spatial representation of weight.