22-03-2017 | Wetenschappelijk artikel | Uitgave 2/2017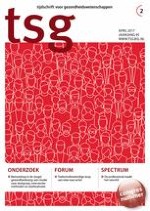 Is e-health behandeling binnen de kinder- en jeugdpsychiatrie effectief?
Een systematische review van Randomized Controlled Trials
Tijdschrift:
Auteurs:

K.C.M. Bul, A.M. de Ruijter, M. van Wingerden, A. Maras
Belangrijke opmerkingen
Dit artikel is eerder verschenen in TSG (2013;7:437–47).
Doelstelling
: Een systematische review naar de effectiviteit van e-health behandeling binnen de kinder- en jeugdpsychiatrie is uitgevoerd. Hierbij wordt e-health behandeling ingedeeld naar de toepassingen telepsychiatrie, internet en Serious Games.
Methoden
: Middels diverse zoektermen is in PsycINFO, Pubmed en Google/Google scholar gezocht naar artikelen. Diverse inclusie- en exclusie criteria zijn opgesteld om te bepalen of artikelen wel of niet in aanmerking kwamen voor de systematische review.
Resultaten
: In totaal werden er 143 artikelen gevonden. Hiervan bleken 23 studies aan de selectiecriteria te voldoen. Interventies en populaties verschillen naar gelang de toepassing van e-health. Op basis van de beschikbare onderzoeksgegevens kan geconcludeerd worden dat e-health voor bepaalde stoornissen effectief is. Vergelijking met conventionele kinderpsychiatrische behandelingen is tot op heden beperkt uitgevoerd, maar beschikbare studies lijken aan te tonen dat online en face-to-face behandeling even effectief zijn.
Conclusie
: E-health behandeling neemt in toenemende mate een belangrijke rol in binnen het spectrum van kinderpsychiatrische behandeling. Hoewel de eerste resultaten veelbelovend zijn, blijken e-health interventies nog niet voor alle stoornisgebieden ontwikkeld of onderzocht te zijn. Daarnaast is er nog maar weinig bekend over de oorzaken van uitval en werkzame mechanismen van e-health. Net zoals andere interventies aangeboden in de kinder- en jeugdpsychiatrie moeten e-health interventies adequaat op effectiviteit en efficiëntie onderzocht worden.