11-07-2020 | ORIGINAL PAPER | Uitgave 9/2020 Open Access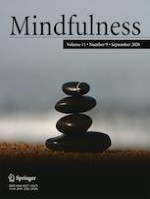 Introspective Interest and Insight in the Context of Mindfulness-Based Stress Reduction: a Randomized Trial
Tijdschrift:
Auteurs:

Ivan Nyklíček, Renée Zonneveld, Johan Denollet
Belangrijke opmerkingen
Unfortunately, author Johan Denollet deceased towards the end of the manuscript process.
Publisher's Note
Springer Nature remains neutral with regard to jurisdictional claims in published maps and institutional affiliations.
Abstract
Objective
Introspective interest and insight have long been argued to be important factors in psychotherapy. However, empirical studies are scarce and their results equivocal. Therefore, in the present study, the potential moderating and mediating roles of introspective interest and insight were examined in the context of mindfulness-based stress reduction (MBSR).
Methods
In a randomized controlled trial, 72 MBSR participants were compared with 71 waitlist control participants. Their mean age was 46.1 years (SD = 10.3), 31.5% were male and all were white. Pre-to-post changes in mood, perceived stress, quality of life, mindfulness skills, and introspective interest and insight were compared between the groups and the moderating and mediating effects of introspective interest and insight were examined, adjusting for effects of mindfulness skills.
Results
Introspective interest nor insight moderated the effects of MBSR. However, increase in insight, but not interest, significantly mediated favorable effects of MBSR on all outcome variables, over and above changes in mindfulness skills: perceived stress (
B
 = − 1.43, 95% CI − 2.63 to − 0.54), negative affect (
B
 = − 0.11, 95% CI − 0.23 to − 0.00), positive affect (
B
 = 0.12, 95% CI 0.03–0.23) and psychological quality of life (
B
 = 0.16, 95% CI 0.02–0.34).
Conclusions
Increase in introspective insight may form a potentially important mechanism of the effectiveness of mindfulness-based interventions, and possibly also other psychological interventions.