01-12-2013 | Original Article | Uitgave 12/2013 Open Access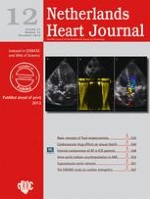 Intra-aortic balloon counterpulsation in acute myocardial infarction: old and emerging indications
Tijdschrift:
Auteurs:

L. X. van Nunen, M. van 't Veer, S. Schampaert, B. J. E. M. Steerneman, M. C. M. Rutten, F. N. van de Vosse, N. H. J. Pijls
Abstract
Background
Recent evidence questions the role of intra-aortic balloon counterpulsation (IABP) in the treatment of acute myocardial infarction (AMI) complicated by cardiogenic shock (CS). An area of increasing interest is the use of IABP for persistent ischaemia (PI). We analysed the use of IABP in patients with AMI complicated by CS or PI.
Methods
From 2008 to 2010, a total of 4076 patients were admitted to our hospital for primary percutaneous coronary intervention (PCI) for AMI. Out of those, 239 patients received an IABP either because of CS or because of PI. Characteristics and outcome of those patients are investigated.
Results
The mean age of the study population was 64 ± 11 years; 75 % were male patients. Of the patients, 63 % had CS and 37 % had PI. Patients with CS had a 30-day mortality rate of 36 %; 1-year mortality was 41 %. Patients with PI had a 30-day mortality rate of 7 %; 1-year mortality was 11 %.
Conclusions
Mortality in patients admitted for primary PCI because of AMI complicated by CS is high despite IABP use. Outcome in patients treated with IABP for PI is favourable and mandates further prospective studies.