10-05-2018 | Onderzoek | Uitgave 11/2018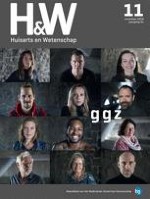 Internettherapie voor insomnie vermindert ook depressieklachten
Tijdschrift:
Auteurs:

Tanja van der Zweerde, Annemieke van Straten, Marieke Effting, Jaap Lancee
Belangrijke opmerkingen
Van der Zweerde T, Van Straten A, Effting M, Lancee J. Internettherapie voor insomnie vermindert ook depressieklachten. Huisarts Wet 2018;61(11):24-7.
Mogelijke belangenverstrengeling: niets aangegeven.
Dit is een bewerkte vertaling van Van der Zweerde T, Van Straten A, Effting M, Kyle S, Lancee J. Does online insomnia treatment reduce depressive symptoms? A randomized controlled trial in individuals with both insomnia and depressive symptoms. Psychol Med May 2018:1-9 (e-pub). Publicatie gebeurt met toestemming.
Samenvatting
Inleiding Cognitieve gedragstherapie voor insomnie (CGT-I) is een effectieve behandeling voor insomnie. Eerder onderzoek wijst erop dat de effecten niet beperkt zijn tot de ernst van de insomnie, maar dat ook depressiesymptomen verminderen. De resultaten zijn echter niet eenduidig.
Methode In deze gerandomiseerde gecontroleerde trial (RCT) werden de effecten onderzocht van online CGT-I op depressie en insomnie bij mensen met symptomen van beide aandoeningen. Deelnemers (n = 104) met insomnie en ten minste subklinische depressieklachten werden gerandomiseerd naar 1) begeleide online CGT-I of 2) een onbehandelde controlegroep. De primaire uitkomstmaat was ernst van depressiesymptomen (Patient Health Questionnaire-9). Daarnaast keken de onderzoekers naar insomnieklachten (Insomnia Severity Index).
Resultaten De deelnemers rapporteerden na behandeling significant minder depressiesymptomen in vergelijking met deelnemers in de controlegroep (Cohen's d = -1,1). Daarnaast bleek het effect op de ernst van de insomnie groot (Cohen's d = -2,4). De effecten bleven gehandhaafd na drie en zes maanden.
Conclusie Gebleken is dat mensen met zowel insomnie als depressieklachten vooruitgaan op beide vlakken na online behandeling voor insomnie. Dit biedt kansen voor behandeling volgens richtlijnen in de huisartsenpraktijk onder begeleiding van de poh-ggz.