01-06-2011 | Empirical Research | Uitgave 6/2011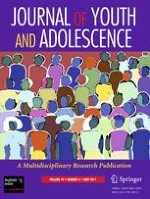 Intergroup Contact and Evaluations of Race-Based Exclusion in Urban Minority Children and Adolescents
Tijdschrift:
Auteurs:

Martin D. Ruck, Henry Park, Melanie Killen, David S. Crystal
Abstract
There is a dearth of published research on the role of intergroup contact on urban US ethnic minority children's and adolescents' evaluations of racial exclusion. The current investigation examined these issues in a sample of low-income minority 4th, 7th, and 10th grade (
N
= 129, 60% female) African American and Latino/a students attending predominately racial and ethnic minority US urban public schools. Using individual interviews, participants were presented with scenarios depicting three contexts of interracial peer exclusion (lunch at school, a sleepover party, and a school dance). Novel findings were that intergroup contact was significantly related to low-income urban ethnic minority youth's evaluations of the wrongfulness of race-based exclusion and their awareness of the use of stereotypes to justify racial exclusion. Further, significant interactions involving intergroup contact, context, age, and gender were also found. Findings illustrated the importance of intergroup contact for ethnic minority students and the complexity of ethnic minority children's and adolescents' judgments and decision-making about interracial peer exclusion.