14-09-2016 | Original Paper | Uitgave 1/2017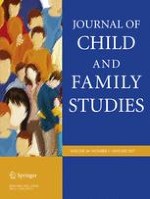 Interculturality and Early Attachment: A Comparison of Urban/
Non-Mapuche

and Rural/

Mapuche

Mother-Baby Dyads in Chile
Tijdschrift:
Auteurs:

Chamarrita Farkas, Marcia Olhaberry, María Pía Santelices, Patricia Cordella
Abstract
It is well known in the field that culture and context play an important role in child rearing and parenting practices. However, many studies do not address the cultural dimension of attachment, although evidence indicates that aspects of early attachment differ across cultures. With the goal of comparing the quality of mother–baby interactions, this study analyzed attachment behaviors and maternal sensitivity in two settings: urban/
non-Mapuche
and rural/
Mapuche
in Chile. The sample was composed of 34 mother-baby dyads (17 urban/
non-Mapuche
and 17 rural/
Mapuche
) with 12-month-old children. During a feeding episode, the attachment style of the interaction was assessed with the Attachment during Stress scale, and maternal sensitivity was evaluated with the Child-Adult Relationship Experimental Index-Toddlers (CARE-Index). The groups differed in their interaction attachment style and in affective and proximity modalities: Urban/
non-Mapuche
mothers tended to have secure and ambivalent attachment styles, and rural/
Mapuche
mothers tended to have avoidant styles. When educational level is controlled, ethnicity group can explain the differences in mothers' attachment styles. The findings of the study and their implications are discussed.