01-05-2010 | Empirical Research | Uitgave 5/2010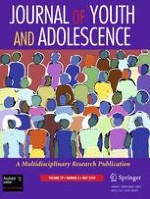 Interactions Between Rejection Sensitivity and Supportive Relationships in the Prediction of Adolescents' Internalizing Difficulties
Tijdschrift:
Auteurs:

Kristina L. McDonald, Julie C. Bowker, Kenneth H. Rubin, Brett Laursen, Melissa S. Duchene
Abstract
Rejection sensitivity, the tendency to anxiously or angrily expect rejection, is associated with internalizing difficulties during childhood and adolescence. The primary goal of the present study was to examine whether supportive parent–child relationships and friendships moderate associations that link angry and anxious rejection sensitivity to depression and social anxiety during middle adolescence in an ethnically diverse sample of 277 youth (
M
age = 14.30 years; 46.93% male). Analyses revealed that angry rejection sensitivity was related to depressive symptoms, but only for adolescents reporting low support from parents and friends. Friend support moderated the association between (1) angry rejection sensitivity and social anxiety, and (2) anxious rejection sensitivity and depressive symptoms. For adolescents reporting low support from friends, support from parents was positively related to social anxiety. Findings highlight the importance of considering relationships in studies of rejection sensitivity and adjustment during adolescence.