01-05-2013 | Review | Uitgave 3/2013 Open Access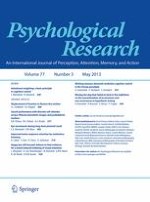 Intentional weighting: a basic principle in cognitive control
Tijdschrift:
Auteurs:

Jiska Memelink, Bernhard Hommel
Cognitive control
In everyday life all kinds of behavior are performed seemingly seamlessly. We are able to plan and execute an enormous variety of actions, such as visiting a friend for having a cup of coffee. This involves arranging transportation to get to your friend's place, paying attention to traffic on your way over, controlling your motor system to move the cup of coffee to your mouth, and so on. We constantly need to adjust our intended actions to the situation at hand. That is, in our intended action to go over to our friend's house we need to take into consideration the constantly changing traffic situation in order not to get into an accident. In our intended action to drink coffee we need to adjust our arm and hand position in such a way that enables us to grasp the cup and bring it to our mouth. This flexibility to adjust to the situational context requires some kind of cognitive-control mechanism.
Cognitive control pertains to input as well as to output. That is, we need a control mechanism to select those perceptual events that are important to us and we need a control mechanism to select the actions we want to perform. Since Donders' (
1869
) seminal studies, cognitive control is commonly considered to operate online by intervening between stimulus-driven processes and the production of actions (Monsell & Driver,
2000
; Norman & Shallice,
1986
; Posner & Snyder,
1975
; Shiffrin & Schneider,
1977
). Accordingly, researchers assume that attentional mechanisms take care of the available stimulus information by prioritizing relevant over irrelevant stimuli were stimulus features, whereas response-selection mechanisms make sure that the most appropriate action is being selected. However, as elaborated elsewhere (Hommel,
2002
,
2009
), online control mechanisms often operate automatically in the sense that the outcome of their operation can be predicted on the basis of the stimulus being presented in the instructions given to the subject. This means that the true control operations—the processes responsible for cognitive adaptations and flexibility—take place before the first stimulus is being presented and the first response being selected. In other words, the control of input and output control must rely on off-line operations and it is these operations the present article is dealing with. As we will argue, preparing for a task is associated with specific processes that are configuring the cognitive system and the available representations of stimuli and responses in such a way that online control operations can run off more or less automatically. Before we go into the specifics of how this preparation may work, let us consider the cognitive representations the respective processes operate on: the representations of perceptual and action events.
The Theory of Event Coding
Perceptual and action events are somehow represented in our cognitive system—the sounds we hear, objects we see, and actions we perform. Neuroscientific findings suggest that events are represented in a distributed fashion, as activations in dedicated feature maps spread throughout the cortex (e.g., DeYoe & Van Essen,
1988
; Wickens, Hyland, & Anson,
1994
). Accordingly, the representation of an event—whether it is perceived or actively produced—can be considered a network of distributed codes that represent the features of the event. How these distributed codes might be operated on to generate perception and action is being discussed by the Theory of Event Coding (TEC) suggested by Hommel, Müsseler, Aschersleben, and Prinz (
2001a
,
2001b
).
TEC is a general framework explaining how perceived and produced events (i.e., stimuli and actions) are cognitively represented and how their representations interact to generate perception and action. TEC claims that perception and action features are coded in a common format and assumes that perception, attention, intention, and action share and operate on a common representational domain (Prinz,
1990
). This notion implies that perceiving an object and acting upon that object is essentially the same process and involves the same network of represented features. Accordingly, perception may influence action, and vice versa—as indeed demonstrated in numerous studies (e.g., Craighero, Fadiga, Rizzolatti, & Umiltà,
1999
; Hamilton, Wolpert, & Frith,
2004
; Knoblich & Flach,
2001
; Proffitt,
2006
; Schubö, Aschersleben, & Prinz,
2001
).
The theoretical move that allows TEC to relate perception to action, and vice versa, is grounded in the ideomotor assumption that actions are cognitively represented in terms of codes of their perceptual effects (for recent reviews, see Hommel,
2009
; Shin, Proctor, & Capaldi,
2010
). In a nutshell, the idea is that agents are continuously registering the perceptual consequences of their movements and integrating the representations of these consequences with the motor patterns that brought them about (Lotze,
1852
; James,
1890
). If so, action-effect representations become effective retrieval cues of the actions that are likely to produce the represented effects, which provides the knowledge base necessary to anticipate and actively produce action effects—that is, voluntary action control.
According to TEC, voluntary action is thus more than producing motor outflow, as it entails the active anticipation of a wanted perceptual outcome (the action goal), the actual production of that outcome, and the repeated integration of that outcome with the action producing it. By the same token, TEC has a very active concept of perception, as it considers perceptual input as a consequence of actively seeking and producing this input. Indeed, we are unable to perceive a visual object without having oriented our body and moved our eyes toward this object, unable to sense its surface without systematically touching it, and so forth. Hence, both perception and action are sensorimotor processes that need to integrate sensory information with the movements responsible for bringing them about. The only difference between what researchers call perception and what they call action control is that analyzing the former focuses on the processing of the actually produced sensory information, while analyzing the latter focuses on the selection of motor output based on the anticipation of this sensory consequences.
The intentional-weighting mechanism
Considering that both perceived events and actively produced events are cognitively represented in terms of their sensory features raises the possibility that the processing of these events is controlled in similar ways and perhaps even by the same mechanisms. Indeed, Hommel et al. (
2001a
) have speculated that the representations of both types of events may be mediated and contextualized through an "intentional-weighting" mechanism. Before we present a generalized version of this weighting mechanism, let us consider two concrete examples to explain the basic logic underlying it.
First, consider a simple action, such as grasping a bottle of water. The successful planning of such an action requires quite a bit of knowledge about grasping in general and grasping water or other bottles in particular. According to the ideomotor principle, the agent selects the grasping action by representing the intended action effect, for instance by imagining holding the bottle in his or her dominant hand. However, in an experienced agent, the motor pattern producing a grasp is likely to be associated not only with representations of grasped water bottles but also with representations of all sorts of other objects that have been and can be grasped: toys, fruits, tools, and so on. At the same token, the representation of the grasped water bottle is likely to be associated not only with grasping actions but also with other action that could result in holding a water bottle, such as catching. Hence, having acquired and being able to recall and reactivate particular action-effect associations is insufficient to tailor the cognitive representations to the task at hand. What is needed is a mechanism that restricts the possible action opportunities to grasping and the possible action outcomes to water bottles, thereby selecting the task-relevant action and action-effect representation. How can that be achieved?
The central claim that we want to defend in the following is that such selections are the consequence of changing the weights of features that are coded on task-relevant dimensions: intentional weighting. When preparing for a task, so we suggest, retrieving or forming an intention automatically increases the weight of features coded on those dimensions that have been experienced, or are assumed to be, and/or actually are necessary for coding task-relevant stimuli and responses. This assumption is common to models of visual search, where preparing for a task is suspected to involve the priming of task-relevant feature dimensions, such as color or shape or any other target-defining feature (e.g., Wolfe,
1994
), or even higher-order perceptual or semantic features (e.g., Barsalou,
1999
; Pecher, Zeelenberg, & Raaijmakers,
1998
). Priming a feature dimension is assumed to increase the impact of features being coded on it on object selection and performance. As the entire dimension receives more weight, all features defined on it will be more salient. Note that the same logic can be applied to action selection. If participants are asked to discriminate between left and right keypresses or between approach and avoidance movements of a joystick, say, this necessarily renders the perceptual dimensions that are coding for the discriminative action feature relevant: horizontal location and the forward–backward (i.e., depth) dimension, respectively. Indeed, according to the ideomotor principle, action selection considers the actions' perceptual consequences, which suggests that it relies on the perceptual dimensions on which the task-relevant consequences are defined. This suggests that preparing for executing the same motor pattern can imply the intentional weighting of very different perceptual dimensions, depending on which of the perceptual consequences of the pattern are actually intended.
To summarize, we claim that preparing for the perception and the production of an event includes the automatic priming of task-relevant feature dimensions (and/or increasing the output gain of feature values coded on these dimensions), which increases the impact of codes represented on this dimension on information processing. Features that are task-relevant thus receive more weight than irrelevant features, which increases the probability that those features dominate the cognitive representation of the whole event. The very same perceptual event and motor pattern may thus be cognitively coded in very different ways. Intentional weighting is assumed to occur in, and affect perception as well as action. The weighting of features in perception may be called "attentional" weighting since it affects the way attentional processes operate. Nevertheless, we claim that the weighting processes are not any different from the weighting processes that are affecting action selection, which is why we summarize and relate both types of weighting by referring to "intentional weighting"—so to indicate that the weighting processes are a direct consequence of the current intention to perceive and to act. We assume that the off-line, preparatory intentional weighting serves to control and enable online control processes, such as attentional selection or action selection, which then can be carried out more or less automatically. In other words, we assume that off-line control can automatize online control (Hommel,
2002
,
2007
,
2009
). As we will emphasize below, the assumed off-line nature of intentional weighting implies that it is a slow and time-demanding process that creates control configurations that are inert and thus take time to modify or deactivate. In the following, we will review various studies from different fields of research that shed more light on the intentional-weighting mechanism and that provide evidence for the claim that intentional weighting is a general principle underlying cognitive control or, perhaps better, cognitive meta-control.
Intentional weighting in perceptual search
Strong evidence for the operation of a weighting mechanism is provided by observations in visual search tasks. In visual search tasks participants are to detect a target item among non-target items (the distractors) that do or do not share features with the target. We can distinguish between feature search tasks and conjunction search tasks. In feature search tasks, the target that needs to be detected has a unique feature that none of the distractors have, such as a different color or shape than the other items. This unique feature results in the target to pop out. In conjunction search, the target is not defined by a single unique visual feature but by a combination of two or more features, therefore the information of several features must be integrated to locate the target.
Intentional weighting in action planning
Intentional weighting and task switching
We have now seen that the intentional-weighting mechanism may help us understand the way perception and action planning interact. In particular, considering the logic and operation characteristics of weighting mechanisms it is easy to see that and why action intentions and action planning affect visual search and bias the processing of feature-overlapping stimuli. However, as we will show in the following section, intentional weighting also affects other layers of behavioral control. As we have pointed out in the introduction, intentional-weighting mechanisms are assumed to operate off-line and they are likely to be slow and to produce relatively "sticky" control configurations. How sticky these configurations can be is obvious from studies on task switching.
Intentional weighting of action effects
Up to now we have looked into the impact of intentional weighting on perceptual features and on action features, as well as interactions between them. According to TEC, the cognitive representations of action features derive from the perceptual effects the respective actions are known to produce. Pressing a left or right key creates perceptual events that, among other things, have the feature of occurring on the left or right side of some reference point, or from each other. Accordingly, the cognitive representations of left and right keypresses should include codes referring to the leftness and rightness of these events, which renders the actions "left" and "right" in cognitive terms. As we have seen, emphasizing particular spatial dimensions in one task can spill over to other tasks and modulate the spatial characteristics of the cognitive representation of actions (e.g., by emphasizing or de-emphasizing their leftness and rightness). An interesting, counter-intuitive feature of TEC is that it does not distinguish between action features that seem to be more intrinsic, such as the leftness or rightness of a particular finger movement, and more extrinsic, overlearned consequences of an action, such as the tone that is produced by pressing a particular piano key. Accordingly, it should be possible to affect and bias the cognitive representation of actions not only through the intentional weighting of intrinsic action effects, such as the spatial location or endpoint of a movement, but also through the weighting of extrinsic, acquired action effects.
A study that speaks of the possibility to modify the cognitive representation of action by drawing attention to particular extrinsic action effects is that of Hommel (
1993
). He had participants carry out an auditory Simon task, in which they pressed left and right keys in response of the high or low pitch of a tone that was randomly presented through a left or right loudspeaker. Pressing a key produced a light flash on the opposite side, so that pressing the left key had a visual effect on the right side and pressing the right key had an effect on the left side. When participants were instructed to "press the left/right key" in response to the tone, a standard Simon effect was obtained: performance was better if the tone appeared on the same side where the correct response key was located. This suggests that the actions were spatially coded with respect to the location of the key or the finger operating it. However, when participants were instructed to "flash the right/left light" in response to the tone, the Simon effect was reversed: now performance was better if the tone appeared on the side where the visual action effect was expected. This suggests that the actions were spatially coded with respect to the visual action effect, whose cognitive code was in this case apparently weighted more strongly than the cognitive code of the location of the response key or the finger.
The resulting scenario is shown in Fig.
4
, where the weighting of different response dimensions is influenced by intention. That is, focus on the response key gives the spatial features of the keypress response dimension more weight while focus on the visual effect gives more weight to the more remote action effect.
×
Conclusion
We have seen that several cognitive phenomena can be explained in terms of an intentional-weighting mechanism. As the available research suggests, the intentional-weighting principle is applicable to, and provides a better understanding of selection processes in (visual) perception, action, executive control, and the dynamic interplay between perception and action. As such, the principle seems to grasp the very essence of the contextual flexibility and adaptivity of human behavior.
The intentional-weighting mechanism seems to work in such a way that weights are assigned to whole dimensions/domains such as color or location, rather than to specific feature values such as 'red' or 'up'. Activation (or putting more weight on a domain) results in a greater impact of feature values coded on this domain or dimension in subsequent cognitive operations. Changing these weightings and transferring them from one domain to another seems to be a rather slow process, which invites cross-talk effects and task-switching costs.
Given the broad generality of the intentional-weighting mechanism and its applicability to the various cognitive phenomena, it is interesting to ask whether and to which degree these phenomena are actually different. From the perspective of the Theory of Event Coding (Hommel et al.,
2001a
), selecting a stimulus is not any different from selecting a response: both are considered events of the same sort that are cognitively represented alike, so that selecting a stimulus in selecting a response differs with respect to the consequences of the selection but not regarding the selection operation. Accordingly, it may very well be that the top-down contributions to such selection operations are of the same kind as well. Recent work of Rangelov, Müller, and Zehetleitner (
2012
) indicates that the logic underlying the proposed weighting mechanism can also be extended to task-set-dependent processes that intervene between stimulus and response. Although Rangelov et al. (
2012
) argue for multiple weighting systems, the operational characteristics of their weighting mechanism is very similar to the one described here. A similar recent development that is, however, more devoted to the interaction between perception and action is the Multidimensional Vector Model of Stimulus–Response Compatibility suggested by Yamaguchi and Proctor (
2012
). The model allows for representing differential weightings of stimulus dimensions as a function of response properties—which the authors demonstrate to account for a number of stimulus–response compatibility phenomena and which perfectly fits the theoretical approach we suggest. In any case, the suggested principle of intentional weighting is not only rather general but also sufficiently simple to further reduce the loans of intelligence taken when explaining intentional human behavior.
Open Access
This article is distributed under the terms of the Creative Commons Attribution License which permits any use, distribution, and reproduction in any medium, provided the original author(s) and the source are credited.