01-08-2015 | Original Article | Uitgave 4/2015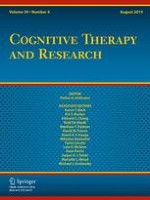 Initial Psychometric Properties of the Attentional Fixation on Suicide Experiences Questionnaire
Tijdschrift:
Auteurs:

Abby Adler, Shari Jager-Hyman, Kelly L. Green, Gregory K. Brown, Aaron T. Beck, Amy Wenzel
Abstract
Attentional fixation
is a cognitive process characterized by a narrowing of attention on and preoccupation with suicide as the only solution to one's problems. The present study sought to investigate the experience of attentional fixation on suicide by establishing the psychometric properties of the Attentional Fixation on Suicide Experiences Questionnaire (AFSEQ) in a sample of 64 patients who recently attempted suicide. The AFSEQ evidenced strong psychometric properties, including good internal consistency and construct validity through moderate correlations with measures of suicidal ideation, depressive symptoms, and suicide-relevant cognitive distortions. In addition, an exploratory factor analysis of the AFSEQ identified two factors: Cognitive Dysfunction and Cognitive Stuckness. Results suggest the AFSEQ is a reliable method for assessing the experience of attentional fixation in relation to suicide. We propose future research to further examine attentional fixation as a proximal risk factor for suicidal behavior.