05-06-2020 | Original Article | Uitgave 10/2020 Open Access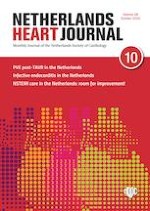 Infective endocarditis in the Netherlands: current epidemiological profile and mortality
An analysis based on partial ESC EORP collected data
Tijdschrift:
Auteurs:

S. El Kadi, D. M. F. van den Buijs, T. Meijers, M. D. Gilbers, S. C. A. M. Bekkers, J. P. van Melle, R. K. Riezebos, W. L. Blok, W. Tanis, A. R. Wahadat, J. W. Roos-Hesselink, T. I. G. van der Spoel, S. A. J. Chamuleau, O. Kamp, EURO ENDO Investigators group
Belangrijke opmerkingen
Electronic supplementary material
The online version of this article (
https://​doi.​org/​10.​1007/​s12471-020-01431-z
) contains supplementary material, which is available to authorized users. A complete list of the EURO-ENDO Investigators Group and of the EURO-ENDO National Coordinators is provided in the ESM.
Abstract
Introduction
Infective endocarditis (IE) is associated with a high in-hospital and long term mortality. Although progress has been made in diagnostic approach and management of IE, morbidity and mortality of IE remain high. In the latest European guidelines, the importance of the multi-modality imaging in diagnosis and follow up of IE is emphasized.
Aim
The aim was to provide information regarding mortality and adverse events of IE, to determine IE characteristics and to assess current use of imaging in the diagnostic workup of IE.
Methods
This is a prospective observational cohort study. We used data from the EURO-ENDO registry. Seven hospitals in the Netherlands have participated and included patients with IE between April 2016 and April 2018.
Results
A total of 139 IE patients were included. Prosthetic valve endocarditis constituted 32.4% of the cases, cardiac device related IE 7.2% and aortic root prosthesis IE 3.6%. In-hospital mortality was 14.4% (20 patients) and one-year mortality was 21.6% (30 patients). The incidence of embolic events under treatment was 16.5%, while congestive heart failure or cardiogenic shock occurred in 15.1% of the patients. Transthoracic and transoesophageal echocardiography were performed most frequently (97.8%; 81.3%) and within 3 days after IE suspicion, followed by 18F‑fluorodeoxyglucose positron emission tomography/computed tomography (45.3%) within 6 days and multi-slice computed tomography (42.4%) within 7 days.
Conclusion
We observed a high percentage of prosthetic valve endocarditis, rapid and extensive use of imaging and a relatively low in-hospital and one-year mortality of IE in the Netherlands. Limitations include possible selection bias.