15-11-2016 | Empirical Research | Uitgave 8/2017 Open Access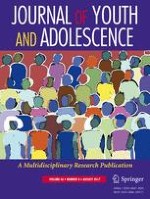 Individual Popularity, Peer Group Popularity Composition and Adolescents' Alcohol Consumption
Tijdschrift:
Auteurs:

Rob Gommans, Christoph M. Müller, Gonneke W. J. M. Stevens, Antonius H. N. Cillessen, Tom F. M. Ter Bogt
Abstract
Previous studies have convincingly shown associations between popularity and adolescent drinking. This study examined whether the popularity composition of the peer group and the relative difference in popularity between adolescents and their peers are also associated with adolescent drinking. Participants were 800 adolescents (
M
age
 = 14.73; SD
age
 = 1.00; 51.6 % girls) from 31 classrooms who completed peer ratings of popularity and self-reports of alcohol consumption. Results showed that drinking was higher among popular than unpopular adolescents, higher among popular adolescents surrounded by less popular classmates, and lower in classrooms with more variability in popularity. Thus, beyond individual popularity, peer group popularity composition also should be taken into account when investigating antisocial and health risk behaviors in adolescence such as drinking.