2010 | OriginalPaper | Hoofdstuk
Indien reumapatiënten gedurende het gebruik van biologicals landen bezoeken waar tbc vaker voorkomt (bijv. Marokko of Turkije), is herhaling van de mantoux en/of thoraxfoto nadien zinvol of is het sowieso zinvol om regelmatig de screening te herhalen?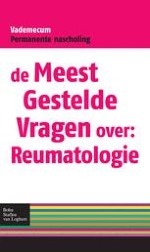 eerste hoofdstuk lezen
Auteur: mevrouw Dr. S. M. Arend
Uitgeverij: Bohn Stafleu van Loghum
Abstract
Geneesmiddelen die specifiek de werking van een bepaalde lichaamseigen signaalstof zoals tumornecrosefactor alfa (TNF) of interleukine (IL)-1 tegengaan, worden wel biologicals genoemd (1, 2). Deze worden sinds een tiental jaren gebruikt bij patiënten met een inflammatoire ziekte, bijvoorbeeld reumatoïde artritis of de ziekte van Crohn. Een groot deel van deze patiënten heeft veel baat bij deze behandeling, waardoor de kwaliteit van leven belangrijk verbetert en de mobiliteit en daarmee vaak ook de reislust toeneemt. De behandeling is chronisch en het aantal indicaties waarvoor deze middelen worden vergoed, stijgt gestaag, waardoor de populatie patiënten waar deze vraag betrekking op heeft gestaag groeit. Wereldwijd worden er vele honderdduizenden patiënten met een biological behandeld.Naar schatting gaat het momenteel in Nederland om meer dan 20.000 patiënten. In deze patiëntengroep kunnen de gevolg en van een eventuele besmetting met
M. tuberculosis
zeer groot zijn; er kan zelfs levensgevaar zijn. Daarom is het van belang dat elke arts die deze middelen voorschrijft de bovengenoemde vraag goed op waarde kan schatten en de factoren kent die van belang zijn om een verantwoord advies te geven. Op deze factoren zal puntsgewijs worden ingegaan, waarbij enkele illustratieve patiëntencasus uit de dagelijkse praktijk worden opgevoerd.