11-04-2016 | Uitgave 3/2016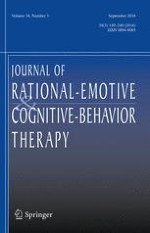 Incorporating Jewish Texts with REBT in the Treatment of Clinical Anger
Auteur:

Mark Schiffman
Abstract
Although there are some major philosophical differences between the underpinnings of REBT and religion, REBT has still been used effectively with religious clients (DiGiuseppe et al. in A practitioner's guide to rational-emotive behavior therapy, 3rd ed., Oxford University Press, Oxford,
2014
). To date, most of the literature on using REBT with religious clients has focused on Christians and Christianity (e.g. Johnson in Cognit Behav Pract 8(1):39–47,
2002
; Nielsen in Cognit Behav Pract 8(1):34–39,
2002
; Ellis in Prof Psychol Res Pract 31(1):29–33,
2000
; amongst others), with less attention given to other religions. This paper provides examples for the therapeutic use of Jewish texts from Biblical and Rabbinic literature to help religious Jewish clients who present with clinical anger. The texts are used to highlight and accompany disputations and other REBT therapeutic techniques. Before offering the disputes and the techniques, a brief history of REBT and religion is presented, followed by general ethical guidelines for treating religious clients. A review of different Jewish denominations and a background to Biblical and Rabbinic sources are described as well.