01-02-2013 | Uitgave 1/2013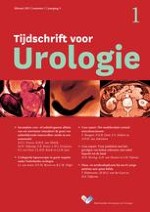 Incomplete cryo- of radiofrequente ablatie van een niertumor stimuleert de groei van achterblijvende tumorcellen: studie in een muismodel
Incomplete Cryo- Of Radiofrequente Ablatie Van Een Niertumor
Tijdschrift:
Auteurs:

dr. S.G.C. Kroeze, dr. H.H.E. van Melick, dr. M.W. Nijkamp, F.K. Kruse, L.W.J. Kruijssen, prof. dr. P.J. van Diest, prof. dr. J.L.H.R. Bosch, dr. J.J.M. Jans
Belangrijke opmerkingen
Dit artikel is eerder gepubliceerd als 'Incomplete thermal ablation stimulates proliferation of residual renal carcinoma cells in a translational murine model' in BJU Int. 2012;110:E281-6.
Samenvatting
Introductie:
De studie is opgezet om het effect van onvolledige behandeling met radiofrequente ablatie (RFA) te vergelijken met dat van cryoablatie (CA) en partiële nefrectomie (PN) op de aanwezigheid van celgroei, apoptose en groeistimulerende factoren.
Methoden:
Renca-niertumoren werden getransplanteerd onder het nierkapsel in Balb/C-muizen (4-6 muizen/groep) en onvolledig behandeld met RFA, CA of PN, of niet behandeld (controle). Na 2 uur en na 1, 3, 7 en 14 dagen werd de aanwezigheid van celproliferatie (Ki67), apoptose (Casp3), hypoxie, inflammatie (CD45, F4/80) en heat shock proteins (HSP70 en HSP90) geëvalueerd door middel van immunohistochemie.
Resultaten:
Er was een toegenomen groei en afgenomen apoptose van achterblijvende tumorcellen na RFA en CA. Proliferatie was hoger (
p
< 0,05) en apoptose lager (
p
< 0,05) na RFA dan na CA. Er was sprake van meer hypoxie en meer HSP's vanaf 2 uur tot 7 dagen na ablatie (
p
< 0,0001). Inflammatoire cellen waren later aanwezig (piek na 1 week). Al deze factoren waren niet of nauwelijks verhoogd na PN.
Conclusie:
De conclusie is dat er sprake is van een toegenomen groei en verminderde apoptose van achterblijvende niertumorcellen na onvolledige behandeling met RFA en CA in dit studiemodel, waarbij vooral na onvolledige behandeling met RFA significant meer proliferatie en minder apoptose wordt geobserveerd. Dit is niet het geval na onvolledige behandeling met PN. Door ablatie geïnduceerde groeistimulerende factoren als hypoxie en HSP's kunnen hieraan ten grondslag liggen. Deze studie onderstreept het belang van het streven naar complete ablatie, wil men een goede oncologische uitkomst bereiken.