01-06-2014 | Original Article | Uitgave 6/2014 Open Access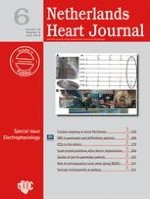 Incidence of lead dislodgement, malfunction and perforation during the first year following device implantation
Tijdschrift:
Auteurs:

A. Ghani, P. P. H. M. Delnoy, A. R. Ramdat Misier, J. J. J. Smit, A. Adiyaman, J. P. Ottervanger, A. Elvan
Abstract
Background
The number of cardiac rhythm device implantations has been growing fast due to expanding indications and ageing of the population. Complications of implantation were rare in the trials. However, these involved small numbers and selected patients. Prospective real-life data are necessary to assess cardiac device implantation procedure-related risks.
Objective
To determine the incidence and predictors of lead-related re-intervention in a Dutch high-volume teaching hospital.
Methods
Data from all patients who underwent cardiac rhythm device implantation between January 2010 and December 2011 were collected in a prospective registry. At least 1 year of follow-up regarding re-intervention was available for all patients. Lead-related reasons for re-intervention were categorised into lead dislodgement, malfunctioning or perforation.
Results
One thousand nine hundred twenty-nine devices including 3909 leads were implanted. In 595 patients (30.8 %) a CRT-D/P was implanted. Lead-related re-intervention was necessary in 86 (4.4 %) patients; it was more common in younger and male patients, and due to either lead dislodgement (66 %), malfunctioning (20 %) or perforation (18 %). Coronary sinus lead dislodgement or malfunctioning was 1.4 %. Right atrial dislodgement (1.9 %,
p
 < 0.001) or ICD lead dislodgement (1.8 %,
p
 = 0.002) was more common than right ventricular dislodgement (0.3 %). The incidence of lead malfunctioning was higher (0.8 %) in ICD leads. An apical position of the right ventricular lead and lateral wall position of the right atrial lead were related to cardiac perforation.
Conclusions
The incidence of lead-related re-intervention was comparable with the literature. The majority of re-interventions were due to lead dislodgements, particularly with right atrial and ICD leads. Re-intervention due to coronary sinus lead dislodgement was rare.