01-12-2002 | Uitgave 6/2002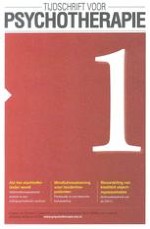 In den beginne was er hechting…
De waarde van theorieën over hechtingsstijlen voor de psychotherapeutische behandeling en indicatiestelling
Tijdschrift:
Auteur:

Drs. Jeannette de Waal
Belangrijke opmerkingen
Drs.
J.E. de Waal
, klinisch psycholoog/psychotherapeut, supervisor en leertherapeut van de NVRG en supervisor VKJP voor de systeemtheoretische leer, is werkzaam als vrijgevestigde psychotherapeut.
In the beginning there was attachment…. The value of attachment style theories for the indication and practice of psychotherapy
Secure attachment in early life is the basis for the development of positive internal working models, which are essential for the undistorted perception of self and others. Insecure attachment leads to dysfunctional coping strategies, a limited capacity for mentalization, and problematic personal relationships. Neurobiological investigations provide knowledge of the physiological foundations of affect regulation problems and show the importance of early attachment in the developing structure of the brain. The therapeutic relationship reactivates early patterns of attachment, making therapeutic change possible. Long-term therapy, in particular, provides this possibility.
Abstract
Bij veilige hechting ontstaan positieve innerlijke werkmodellen van zelf en anderen op basis waarvan zowel het eigen functioneren als de buitenwereld zonder belangrijke vertekeningen waargenomen worden. Onveilige hechting leidt tot disfunctionele
coping
strategieën, een beperkt vermogen tot mentaliseren en problematisch relationeel functioneren. Neurobiologisch onderzoek toont het belang aan van vroege hechtingservaringen voor de ontwikkeling van de structuur van het brein. In de psychotherapeutische relatie worden de hechtingspatronen gereactiveerd en daardoor ook beïnvloedbaar. Langer durende therapieën bieden daar de nodige ruimte voor.