01-10-2013 | Uitgave 7/2013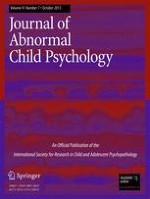 Impulsivity Moderates Promotive Environmental Influences on Adolescent Delinquency: A Comparison Across Family, School, and Neighborhood Contexts
Tijdschrift:
Auteurs:

Pan Chen, Kristen C. Jacobson
Abstract
The present study examined moderating effects of impulsivity on the relationships between promotive factors from family (family warmth, parental knowledge), school (school connectedness), and neighborhood (neighborhood cohesion) contexts with delinquency using data collected from
N
 = 2,978 sixth to eighth graders from 16 schools surrounding a major city in the Midwestern United States. More than half of the respondents were non-Caucasian (
M
age
 = 12.48; 41.0 % male). Multilevel modeling analyses were conducted to take into account the clustering of the participants within schools. Impulsivity was positively associated with adolescent delinquency. Additionally, family warmth, parental knowledge, and school connectedness, but not neighborhood cohesion, were independently and inversely related to adolescent delinquency. Finally, impulsivity moderated relationships between family warmth and parental knowledge with delinquency but not relationships between school attachment and neighborhood cohesion with delinquency. Specifically, the negative relationship between family warmth and delinquency was significant for adolescents with high levels of, but not for those with below-average levels of, impulsivity. In addition, parental knowledge had a stronger association with decreased levels of delinquency for adolescents reporting higher levels of impulsivity. The moderating effects of impulsivity did not differ for males and females or for minority and non-minority participants. Findings indicate that impulsivity may have greater impact on adolescents' susceptibility to positive family influences than on their susceptibility to promotive factors from school or neighborhood contexts. Implications for future research and practice are discussed.