11-11-2015 | Original Article | Uitgave 2/2016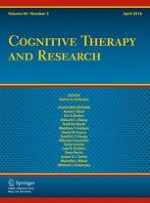 Implicit and Explicit Self-Esteem in Previously and Never Depressed Individuals: Baseline Differences and Reactivity to Rumination
Tijdschrift:
Auteurs:

John E. Roberts, Andrew Porter, Chrystal Vergara-Lopez
Abstract
In contrast to cognitive theories that emphasize negative self-views in depression, a recent study demonstrated that previously depressed individuals have higher implicit self-esteem (SE) than never depressed controls (Franck et al. in Cogn Emot 22(8):1588–1599,
2008
). The present study was designed to extend this past work by measuring both implicit and explicit SE among previously and never depressed individuals and testing whether a rumination manipulation impacts SE more strongly among individuals with past depression. Previously (n = 28) and never depressed (n = 33) participants completed rumination and distraction conditions in sessions separated by 1 week. State explicit SE and implicit SE were measured both pre- and post-manipulation, whereas explicit trait SE was measured once at baseline. Previously depressed individuals had higher implicit SE, but lower explicit trait SE, at baseline compared to never depressed controls. Never depressed individuals experienced decreases in implicit SE following rumination relative to distraction, whereas previously depressed individuals experienced decreases in implicit SE following both rumination and distraction. Our findings demonstrate that previously depressed individuals have high implicit, but low explicit trait SE, compared to never depressed persons, and further suggest that they differ in either their response to repeated administrations of measures of implicit SE or to externally prompted shifts in attentional focus.