01-04-2008 | Original article | Uitgave 2/2008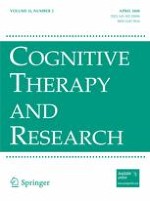 Implicit and Explicit Self-Esteem and Attractiveness Beliefs among Individuals with Body Dysmorphic Disorder
Tijdschrift:
Auteurs:

Ulrike Buhlmann, Bethany A. Teachman, Anke Gerbershagen, Julia Kikul, Winfried Rief
Abstract
Body Dysmorphic Disorder (BDD) is characterized by a preoccupation about imagined or slight defects in one's appearance. In the present study, we evaluated explicit and implicit biases among individuals diagnosed with BDD (
n
= 15), individuals with subclinical BDD symptoms (
n
= 20), and healthy control participants (
n
= 20). Specifically, we used the Implicit Association Test [(IAT; Greenwald, McGhee, & Schwartz, (1998)
Journal of personality and social psychology
, 74, 1464] to measure automatic associations related to self-esteem (evaluations of the self vs. others as good vs. bad) and the importance of attractiveness (evaluations of attractiveness vs. kindness as important vs. meaninglessness). Results indicated that, as predicted, BDD participants had significantly lower implicit self-esteem, relative to healthy control participants, and the subclinical BDD participants were intermediate between these groups. Further, lower implicit self-esteem was positively related to each of the other implicit and explicit BDD-relevant indicators, including explicit beliefs about attractiveness. However, no group differences were observed on the implicit importance of attractiveness task. These findings mostly support cognitive-behavioral models of BDD that suggest vulnerable persons exaggerate the significance of appearance for self-evaluation.