Gepubliceerd in: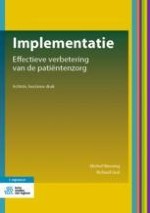 2023 | OriginalPaper | Hoofdstuk
1. Implementatie van verbeteringen in de zorg: een complex probleem
Auteurs : Prof. dr. Richard Grol, Prof. dr. Michel Wensing
Gepubliceerd in: Implementatie
Uitgeverij: Bohn Stafleu van Loghum
Samenvatting
Zowel onderzoek als praktijkervaring suggereert dat patiënten niet altijd de zorg krijgen die volgens recente wetenschappelijke of professionele inzichten wenselijk is. Implementatie kan worden omschreven als 'een procesmatige en planmatige invoering van vernieuwingen en/of verbeteringen (van bewezen waarde) met als doel dat deze een structurele plaats krijgen in het (beroepsmatig) handelen, in het functioneren van organisatie(s) of in de structuur van de gezondheidszorg'. Verschillende doelgroepen en situaties brengen uiteenlopende implementatieproblemen met zich mee. Een goede diagnostische analyse van doelgroep en setting moet daarom richting geven aan het implementatieplan. Meestal betekent dit dat verschillende strategieën moeten worden benut die in een bepaalde volgorde worden toegepast.