01-01-2010 | Beschouwing | Uitgave 1/2010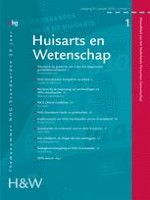 Implementatie van NHG-Standaarden: succes of probleem?
Tijdschrift:
Auteurs:

prof.dr. R. Grol, dr. J. Braspenning, dr. M. Hulscher, dr. M. Wensing, dr. R. Dijkstra
Belangrijke opmerkingen
Mogelijke belangenverstrengeling: niets aangegeven.
hoogleraar Kwaliteit van Zorg
universitair hoofddocent
senior onderzoeker
universitair hoofddocent
huisarts, adjunct-hoofd afdeling Implementatie
Samenvatting
Grol R, Braspenning J, Dijkstra R, Hulscher M, Wensing M. Implementatie van NHG-Standaarden: succes of probleem? Huisarts Wet 2010;53(1):42-6.
Twintig jaar na het uitkomen van de eerste NHG-Standaard maken wij de balans op met betrekking tot het gebruik en de implementatie van NHG-Standaarden. De afgelopen jaren is de toepassing van richtlijnen in huisartsenpraktijken toegenomen van ongeveer 44% naar 74%, terwijl de verschillen tussen de diverse aanbevelingen en de praktijken groot zijn. Voor het realiseren van verbeteringen is inzicht nodig in het achterliggende probleem, op grond waarvan we een implementatiestrategie kunnen ontwikkelen voor een houdbare (
sustainable
) verandering, die we eerst toetsen voordat we deze breed uitrollen. Deze methode betekent dat er niet
één
implementatiestrategie bestaat, omdat we deze immers altijd af moeten stemmen op het probleem en de gebruiker. In dit artikel geven we voorbeelden van meer en minder succesvolle strategieën. Voor het toetsen en implementeren van de zorg die de NHG-Standaarden beschrijven moeten we niet alleen kijken naar het gedrag van de huisarts, maar ook naar dat van de praktijkondersteuners en de andere betrokken zorgverleners uit de eerste lijn, naar de zorgorganisatie, de patiënten zelf en de bredere context. We zetten voor de toekomst in op een cyclisch kwaliteitsbeleid, waarin telkens andere onderwerpen aan bod komen.