14-02-2020 | Uitgave 6/2020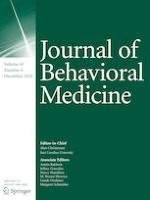 Impact of weight loss interventions on patient-reported outcomes in overweight and obese adults with type 2 diabetes: a systematic review
Tijdschrift:
Auteurs:

Jordan Martenstyn, Madeleine King, Claudia Rutherford
Belangrijke opmerkingen
Publisher's Note
Springer Nature remains neutral with regard to jurisdictional claims in published maps and institutional affiliations.
Abstract
Previous reviews explored weight loss-induced metabolic changes in overweight and obese adults with type 2 diabetes (T2D) but did not report on the impact on patient-reported outcomes (PROs). This systematic review investigated the effect of weight loss interventions on weight loss and PROs in overweight and obese adults with T2D. We searched three electronic databases from inception to March 2018 for randomised controlled trials (RCTs) of weight loss interventions in overweight and obese (according to BMI) adults aged ≥ 18 years reporting changes in PROs from baseline to at least one follow-up assessment during or post-intervention. One reviewer screened abstracts, performed data extraction, and conducted the narrative synthesis, with 25% cross-checking by a second reviewer. We extracted data relating to sample characteristics, intervention and comparison conditions, weight loss, and change in PROs. We identified 540 papers of which 23 met eligibility reporting on 19 RCTs. Four types of interventions (diet, surgery, pharmacological, and multi-component lifestyle interventions) significantly reduced weight. Weight loss was consistently associated with improvements in sexual and physical function across all intervention types, with diet and multi-component lifestyle interventions producing more substantial improvements than surgical or pharmacological interventions. Findings for other PROs, such as HRQOL and depressive symptoms, were inconsistent across studies and intervention types. The four weight loss interventions can be prescribed to engender weight loss in overweight and obese adults with T2D, with multi-component lifestyle interventions generating substantial improvements in physical and sexual function, perhaps due to the potency of exercise in improving PROs.