01-12-2008 | Uitgave 10/2008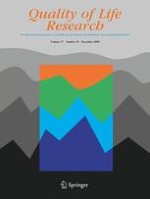 Impact of smoking and smoking cessation on health-related quality of life in women in the Nurses' Health Study
Tijdschrift:
Auteurs:

Linda Sarna, Stella A. Bialous, Mary E. Cooley, Hee-Jin Jun, Diane Feskanich
Abstract
Purpose
To examine the relationship between smoking and health-related quality of life (HRQOL) and the impact of quitting smoking on changes in HRQOL among women in the two Nurses' Health Study (NHS) cohorts (
n
= 158,736) who were 29 to 71 years of age in 1992/1993 when they reported data on smoking status and completed the Short Form-36
®
version 1 (SF-36
®
).
Methods
At baseline, the SF-36® physical component scores (SF-PCS) and mental component scores (SF-MCS) were examined by smoking status (never, 56%, former, 32%, and current, 13%) within 10-year age groups. Smoking characteristics were analyzed as correlates of SF-36®. Changes in smoking status and SF-PCS and SF-MCS, adjusted for comorbid disease and other covariates, were reassessed at 4-year intervals among current smokers in 1992/1993 and those who either continued smoking after 4 and 8 years or reported not smoking at both intervals.
Results
Smokers had lower HRQOL (SF-PCS and SF-MCS) as compared to never and former smokers. Current smoking, cigarettes per day and time since quitting were associated with significantly lower SF-PCS and SF-MCS. Continuing smokers and those who quit had significant declines in SF-PCS over time and significant improvements in SF-MCS at 8 years. There was minimal difference between groups, with some greater improvements in SF-MCS among those reporting non-smoking at 8 years. These findings support the lower ratings of HRQOL by smokers, but quitting alone, after an average of 21 years of smoking, did not improve HRQOL. Further study focused on the HRQOL impact of quitting smoking is needed.