01-12-2016 | Uitgave 3/2017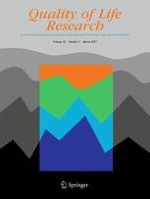 Impact of IRT item misfit on score estimates and severity classifications: an examination of PROMIS depression and pain interference item banks
Tijdschrift:
Auteur:

Yue Zhao
Abstract
Purpose
In patient-reported outcome research that utilizes item response theory (IRT), using statistical significance tests to detect misfit is usually the focus of IRT model-data fit evaluations. However, such evaluations rarely address the impact/consequence of using misfitting items on the intended clinical applications. This study was designed to evaluate the impact of IRT item misfit on score estimates and severity classifications and to demonstrate a recommended process of model-fit evaluation.
Methods
Using secondary data sources collected from the Patient-Reported Outcome Measurement Information System (PROMIS) wave 1 testing phase, analyses were conducted based on PROMIS depression (28 items; 782 cases) and pain interference (41 items; 845 cases) item banks. The identification of misfitting items was assessed using Orlando and Thissen's summed-score item-fit statistics and graphical displays. The impact of misfit was evaluated according to the agreement of both IRT-derived
T
-scores and severity classifications between inclusion and exclusion of misfitting items.
Results
The examination of the presence and impact of misfit suggested that item misfit had a negligible impact on the
T
-score estimates and severity classifications with the general population sample in the PROMIS depression and pain interference item banks, implying that the impact of item misfit was insignificant.
Conclusions
Findings support the
T
-score estimates in the two item banks as robust against item misfit at both the group and individual levels and add confidence to the use of
T
-scores for severity diagnosis in the studied sample. Recommendations on approaches for identifying item misfit (statistical significance) and assessing the misfit impact (practical significance) are given.