01-11-2009 | Uitgave 8/2009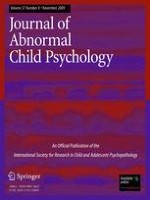 Impact of Behavioral Inhibition and Parenting Style on Internalizing and Externalizing Problems from Early Childhood through Adolescence
Tijdschrift:
Auteurs:

Lela Rankin Williams, Kathryn A. Degnan, Koraly E. Perez-Edgar, Heather A. Henderson, Kenneth H. Rubin, Daniel S. Pine, Laurence Steinberg, Nathan A. Fox
Belangrijke opmerkingen
This research was supported by National Institutes of Health awards (MH 074454 and HD 17899) to the last author. The authors would like to thank all of the research staff who assisted in data collection and coding. Above all, we thank the children and families who participated for their invaluable time and effort over the years of the study.
Abstract
Behavioral inhibition (BI) is characterized by a pattern of extreme social reticence, risk for internalizing behavior problems, and possible protection against externalizing behavior problems. Parenting style may also contribute to these associations between BI and behavior problems (BP). A sample of 113 children was assessed for BI in the laboratory at 14 and 24 months of age, self-report of maternal parenting style at 7 years of age, and maternal report of child internalizing and externalizing BP at 4, 7, and 15 years. Internalizing problems at age 4 were greatest among behaviorally inhibited children who also were exposed to permissive parenting. Furthermore, greater authoritative parenting was associated with less of an increase in internalizing behavior problems over time and greater authoritarian parenting was associated with a steeper decline in externalizing problems. Results highlight the importance of considering child and environmental factors in longitudinal patterns of BP across childhood and adolescence.