09-04-2017 | Uitgave 9/2017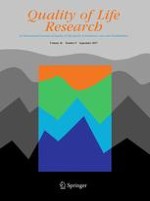 Impact of an electronic monitoring device and behavioral feedback on adherence to multiple sclerosis therapies in youth: results of a randomized trial
Tijdschrift:
Auteurs:

E. Ann Yeh, Stephanie A. Grover, Victoria E. Powell, Gulay Alper, Brenda L. Banwell, Kim Edwards, Mark Gorman, Jennifer Graves, Timothy E. Lotze, Jean K. Mah, Lauren Mednick, Jayne Ness, Maya Obadia, Ruth Slater, Amy Waldman, Emmanuelle Waubant, Carolyn E. Schwartz, on behalf of the Pediatric MS Adherence Study Group
Abstract
Purpose
To report the results of a randomized controlled trial using an electronic monitoring device (EM) plus a motivational interviewing (MI) intervention to enhance adherence to disease-modifying therapies (DMT) in pediatric MS.
Methods
Fifty-two youth with MS (16.03 ± 2.2 years) were randomized to receive either MI (
n
= 25) (target intervention) or a MS medication video (
n
= 27) (attention control). Primary endpoint was change in adherence. Secondary outcomes included changes in quality of life, well-being and self-efficacy. Random effects modeling and Cohen's effect size computation evaluated intervention impact.
Results
Longitudinal random effect models revealed that the MI group decreased their EM adherence (GroupxTime interaction = −0.19), while increasing frequency of parental DMT reminder (26.01)/administration (11.69). We found decreased EM use in the MI group at 6 months (Cohen's
d
= −0.61), but increased pharmacy refill adherence (
d
= 0.23). Parental reminders about medication increased in MI subjects vs controls (
d
= 0.59 at 3 months;
d
= 0.70 at 6 months). We found increases in self-reported adherence (
d
= 0.21) at 3 but not 6 months, fewer barriers to adherence at three (
d
= −0.58) and six months (
d
= −0.31), better physical (
d
= 0.23 at 3 months;
d
= 0.45 at 6 months), emotional (
d
= 0.25 at 3 months) and self-efficacy function (
d
= 0.55 at 3 months; 0.48 at 6 months), but worse well-being, including self-acceptance (
d
= −0.53 at 6 months) and environmental mastery (
d
= −0.42 at 3 and 6 months) in intervention as compared to control patients.
Conclusions
Participants receiving MI + EM experienced worsening on objective measures of adherence and increased parental involvement, but improved on some self- and parent-reported measures. MI participants reported improvements in quality of life and self-efficacy, but worsened well-being.