Gepubliceerd in: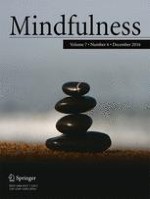 Open Access 02-08-2016 | ORIGINAL PAPER
Illusory Temporal Binding in Meditators
Gepubliceerd in: Mindfulness | Uitgave 6/2016
Abstract
We investigate conditions in which more accurate metacognition may lead to greater susceptibility to illusion and thus conditions under which mindfulness meditation may lead to less accurate perceptions. Specifically, greater awareness of intentions may lead to an illusory compression of time between a voluntary action and its outcome ("intentional binding"). Here, we report that experienced Buddhist mindfulness meditators rather than non-meditators display a greater illusory shift of the timing of an outcome toward an intentional action. Mindfulness meditation involves awareness of causal connections between different mental states, including intentions. We argue that this supports improvements in metacognition targeted at motor intentions. Changes in metacognitive ability may result in an earlier and less veridical experience of the timing of action outcomes either through increased access to sensorimotor pre-representations of an action outcome or by affording greater precision to action timing judgements. Furthermore, as intentional binding is an implicit measure of the sense of agency; these results also provide evidence that mindfulness meditators experience a stronger sense of agency.
Introduction
Method
Participants
Eight meditators were recruited from Brighton-based Buddhist organisations. Eight age and gender matched controls were recruited by advertisement (3 males and 5 females, mean age = 49.3 years,
SD
 = 10.5). The Buddhist meditators (3 males and 5 females, mean age = 49.1 years,
SD
 = 9.8) reported a mean of 14.6 years of continuous meditation experience (
SD
 = 11.6) and a mean of 23.3 (
SD
 = 12.0) hours per month meditation. Meditators were asked to provide details of their practice in simple terms and all reported using a form of mindfulness meditation. All members of the control group reported that they had no experience of mindfulness meditation.
Ethical approval was received from the University of Sussex ethical committee. Informed consent was obtained from each participant before commencing with the study. Participants received cash payment of £5, and were additionally paid £5 in travel expenses.
Participants were recruited for the duration of one term, until there were no more responses. Bayesian analyses were used to assess sensitivity. As stopping was not conditional on the
p
value, orthodox statistics assuming fixed N could be used (Cox and Mayo
2010
, section 10.1). Crucially, we used Bayesian analyses to indicate the strength of evidence for H1 versus H0; the measure of evidence is valid no matter what the stopping rule.
Procedure
Visual stimuli were displayed at 100 Hz on a 21-in. CRT monitor and auditory stimuli were presented via Sennheiser headphones. For each trial, a clock face was presented, marked at thirty degree intervals and subtended a visual angle of five degrees. A static dot, subtending at 0.2°, appeared at a pseudo-randomised position and began rotating around the clock 250 ms later (at 2560 ms per revolution). Participants were seated at a viewing distance of approximately 60 cm. A computer keyboard was used to record actions (button presses).
There were four trial types, presented in separate blocks. In contingent trials, pressing a key triggered a 1000 Hz, 100 ms duration tone after a 250 ms delay. Participants were asked to look at a fixation cross in the centre of the clock and to wait for at least one revolution before pressing the button at a time of their choosing. The trial was restarted if the action occurred before one full revolution or after six revolutions. Participants were asked not to plan ahead or to aim for a particular point on the clock and to report either the action or the tone (to give contingent action or contingent tone judgements). Baseline action trials were the same as contingent action trials except the button did not trigger a tone. In baseline tone trials, the tone was triggered pseudo-randomly between 2.5 s and 7 s following one revolution of the clock.
Following the tone (or action on baseline action trials), the dot continued moving for a pseudo-randomised period of time between 1200 ms and 2370 ms. The clock was then removed from the screen for a pseudorandomised time interval (500 ms to 1280 ms). When the clock reappeared, participants were able to control the position of the dot with a mouse. Moving the mouse forward (toward the screen) caused the dot to move in a clockwise direction around the clock face and the reverse mouse movement (away from the screen) caused the dot to move counter-clockwise around the clock face. Participants were asked to move the dot to the position it had occupied at the time of the judged event (action or tone) and to press the mouse button to record their judgement.
Each block consisted of 40 repetitions of one trial type and blocks were separated by 30 s rest periods. The four blocks were presented in counterbalanced order. Before the session began, all participants were trained with four practice trials in the baseline tone condition and four in the baseline action condition so that they could become familiarised with the reporting procedure. All Stimuli were generated with Matlab running Psychtoolbox v3 (Kleiner et al.
2007
).
Measures
Mean judgement errors were calculated for each group on each trial type. Individual judgements more than 3.5 SD from the mean for each participant on each judgement type were excluded before mean judgement errors were calculated for each participant. Nine judgements were filtered by this method ((1.4 % of all trials). The adjusted mean errors for action and tone conditions were then subtracted from their respective contingent conditions to calculate action and outcome binding. Finally, outcome binding was subtracted from action binding to produce a total binding measure. We ran independent
t
tests to compare the two groups on these measures.
Within-participant SD of timing judgements provides a measure of precision in estimating the time of an event. If binding reflects the combination of cues according to the precision afforded to actions or their outcomes, any differences in intentional binding should be accompanied by differences in this measure. In terms of cue integration theory, it is the interaction between meditators vs controls by tone vs action timing precision that determines changes in intentional binding between groups. If meditators relative to controls have greater precision for actions rather than outcomes, then outcome binding should be greater and action binding less for meditators relative to controls.
Data Analyses
Bayes factors (
B
) were used to assess strength of evidence (Wagenmakers Verhagen Ly Matzke Steingroever Rouder and Morey
in press
). Unlike null-hypothesis significance testing, Bayes factors have the advantage of distinguishing sensitive evidence for H0 from not much evidence at all. A
B
of above 3 indicates substantial evidence for the alternative hypothesis and below 1/3 substantial evidence for the null hypothesis.
B
s between 3 and 1/3 indicate data insensitivity in distinguishing null and alternative hypotheses (Dienes
2014
; Jeffreys
1939
). Here,
B
H(0,

x

)
refers to a Bayes factor in which the predictions of H1 were modelled as half-normal distribution with an SD of
x
(Dienes
2014
); the half-normal can be used when a theory makes a directional prediction where
x
scales the size of effect that could be expected (so x can be chosen from e.g. relevant past studies). Kranick et al. (
2013
) provide an estimate of the sort of difference in intentional binding that could be found between different groups using conversion disorder patients; the difference between groups in tone binding was on the order of magnitude of about half the effect found in control participants. Bayes factors for group differences in each measure were therefore calculated using a half-normal distribution with SD based on half the total shift in the control group. The direction we used is that predicted by cue combination and sensorimotor pre-representation theories of intentional binding, given the assumptions discussed in the introduction (Wolpe and Rowe
2014
). That is, the prediction was a greater outcome binding for meditators rather than controls, but a reduced action binding.
Bayes factors for solo action judgement group contrasts were calculated using a full-normal with SD = 80 ms based on the difference between meditators and non-meditators in the timing of an intention to move (Lush Naish and Dienes
2016
). H1 for analysing differences between meditators and controls in standard deviations (SD) was specified using a uniform from 0 to the control groups' SD, specified as B
U[0,

m

]
where
m
is the maximum of the uniform distribution. A Bayes factor for the interaction of group and within-participant SD in baseline action and outcome trials was calculated using a uniform from 0 to the largest simple effect difference between groups (Dienes
2014
).
Results
Figure
1
shows the overall intentional binding measures for each group. Meditators' total binding (
M
 = 168.8,
SD
 = 98.9) was greater than that of age-matched non meditators (
M
 = 71.7 ms,
SD
 = 62.6),
t
(14) = 2.34,
p
 = 0.034,
d
 = 1.17,
B
H(0, 40)=
3.95.
×
Figure
2
shows the action and outcome binding measures for each group. Meditators' outcome binding (
M
 = -138.02 ms,
SD
 = 64.8) was greater than that of non-meditators (
M
 = -60.5 ms,
SD
 = 50.0),
t
(14) = 2.68,
p
 = 0.018,
d
 = 1.34,
B
H(0, 32)=
6.57. There was no sensitive evidence for whether or not meditators' action binding (
M
 = 30.7 ms,
SD
 = 45.9) was less than that of non-meditators (
M
 = 13.9 ms,
SD
 = 31.0),
t
(13) = 0.857,
p
 = 0.406,
d
 = 0.43,
B
H(0, 9)=
0.80. For the prediction of action binding being greater for meditators rather than non-meditators, B
H(0, 9)
 = 1.20.
×
The raw simple effect of meditators' within-participant SDs was 30.3 ms lower than that of controls for baseline action judgements and 11.2 ms lower for baseline tone judgements, so the raw interaction effect for within-participant SD on each measure between groups was 19.1 ms. There was no evidence one way or the other for whether or not there was an interaction,
F
(1, 14) = 0.427,
p
 = 0.524, B
U[0,

30

]
 = 1.18.
Discussion
We found that meditators showed greater subjective compression of the interval between an intentional action and its outcome than non-meditators (intentional binding). Specifically, meditators showed a greater shift in the perceived timing of an event toward the action that caused it; there was no sensitive evidence for a difference between meditators and non-meditators in the shift of action judgements toward its tone (Bayesian analysis showed these data to be insensitive in discriminating H1 from H0, so no firm conclusions can be drawn with regard to accepting the null hypothesis for action binding difference and this non-significant result will not discussed further). Meditators therefore reported a less veridical experience of timing of action outcomes than non-meditators. Furthermore, as intentional binding is considered an implicit measure of sense of agency, this result can be taken to show that meditators have a stronger sense of agency than non-meditators.
We report increased intentional binding, an objective measure of the sense of agency, in meditators over age-matched controls. Specifically, meditators showed a larger shift in the timing of an outcome toward the intentional action that caused it. While meditators here reported a less veridical experience of the timing of an event, we argue that this reflects that compared to non-meditators, mindfulness meditators have improved metacognition of motor intentions.
Authors' Contributions
Z. Dienes and P. Lush developed the study concept. All authors contributed to the study design. Testing and data collection were performed by P. Lush. P. Lush performed the data analysis and interpretation under the supervision of Z. Dienes. P. Lush & Z. Dienes drafted the manuscript. All authors approved the final version of the manuscript for submission.
Open Access
This article is distributed under the terms of the Creative Commons Attribution 4.0 International License (http://creativecommons.org/licenses/by/4.0/), which permits unrestricted use, distribution, and reproduction in any medium, provided you give appropriate credit to the original author(s) and the source, provide a link to the Creative Commons license, and indicate if changes were made.