01-11-2015 | Uitgave 3/2015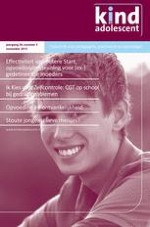 Ik kies voor zelfcontrole: CGT op school bij gedragsproblemen
Een gerandomiseerd onderzoek naar de effectiviteit van een cognitief gedragstherapeutische interventie in het basisonderwijs voor kinderen met opstandig en antisociaal gedrag
Tijdschrift:
Auteurs:

Dr. Juliëtte M. Liber, Dr. Gerly M. de Boo, Prof. dr. Hilde M. Huizenga, Prof. dr. Pier J.M. Prins
Belangrijke opmerkingen
Het huidige artikel is een vertaalde en bewerkte versie van Liber, J.M, Boo, G.M. de, Huizenga, H.M., & Prins, P.J.M. (2013) School-based intervention for childhood disruptive behavior in disadvantaged settings: A randomized controlled trial with and without active teacher support.
Journal of Consulting and Clinical Psychology, 81(6)
, 975–987.
Dit onderzoek werd mogelijk gemaakt dankzij financiering door ZonMW (157001016).
Samenvatting
In dit onderzoek werd een cognitief-gedragstherapeutische interventie in het basisonderwijs vergeleken met een wachtlijstconditie. Ook werd onderzocht of actieve participatie van leerkrachten dan wel psycho-educatie aan de leerkracht tot gunstiger behandeleffecten leidden. Het onderzoek werd uitgevoerd bij 173 kinderen van 8 tot en met 12 jaar, grotendeels afkomstig uit gezinnen met een laag tot gemiddelde SES (79 %) en met diverse etnische achtergronden (63 % van niet-Westerse origine). Trainers (
n
 = 13) en co-trainers (
n
 = 22) verzorgden de interventie in duo's. De gegevens werden met behulp van Multilevel Analyse geanalyseerd en Cohen's
d
werd berekend. Ouders en leerkrachten rapporteerden een significante afname van opstandig en antisociaal gedrag (Cohen's
d
 = 0,31). De verbeteringen bleken stabiel of namen toe bij follow-up (Cohen's
d
  =  0,39). Er werden geen effecten van de leerkrachtcondities gevonden direct na de behandeling, maar bij follow-up bleken leerkrachten uit de
educatieve
conditie minder probleemgedrag te rapporteren. Conclusie is dat behandeling van opstandig en antisociaal gedrag binnen de schoolcontext effectief kan zijn.