01-08-2014 | Uitgave 6/2014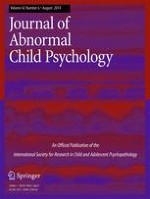 Identifying Cognitive and Interpersonal Predictors of Adolescent Depression
Tijdschrift:
Auteurs:

Randy P. Auerbach, Moon-Ho Ringo Ho, Judy C. Kim
Abstract
Emerging research has begun to examine cognitive and interpersonal predictors of stress and subsequent depression in adolescents. This research is critical as cognitive and interpersonal vulnerability factors likely shape expectations, perspectives, and interpretations of a given situation prior to the onset of a stressor. In the current study, adolescents (
n
 = 157; boys=64, girls=93), ages 12 to 18, participated in a 6-month, multi-wave longitudinal study examining the impact of negative cognitive style, self-criticism, and dependency on stress and depression. Results of time-lagged, idiographic multilevel analyses indicate that depressogenic attributional styles (i.e., composite score and weakest link approach) and self-criticism predict dependent interpersonal, but not noninterpersonal stress. Moreover, the occurrence of stress mediates the relationship between cognitive vulnerability and depressive symptoms over time. At the same time, self-criticism predicts above and beyond depressogenic attributional styles (i.e., composite and weakest link approach). In contrast to our hypotheses, dependency does not contribute to the occurrence of stress, and additionally, no gender differences emerge. Taken together, the findings suggest that self-criticism may be a particularly damaging vulnerability factor in adolescence, and moreover, it may warrant greater attention in the context of psychotherapeutic interventions.