21-01-2019 | Uitgave 6/2019 Open Access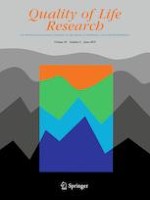 ICECAP-O, the current state of play: a systematic review of studies reporting the psychometric properties and use of the instrument over the decade since its publication
Tijdschrift:
Auteurs:

Louise Proud, Carol McLoughlin, Philip Kinghorn
Belangrijke opmerkingen
Electronic supplementary material
Publisher's Note
Springer Nature remains neutral with regard to jurisdictional claims in published maps and institutional affiliations.
Background
There has been growing interest in recent years in operationalising Amartya Sen's capability approach in the context of health economics [
1
]. One of the first capability-based measures of well-being to be developed and used within health economics was the ICECAP-O [
2
], a measure of well-being for older adults (aged 65 years and older) with five attributes, each with four response levels. The attributes are: Attachment (love and friendship); Security (thinking about the future without concern); Role (doing things that make you feel valued); Enjoyment (enjoyment and pleasure); Control (independence). The paper outlining the development of ICECAP-O was published in 2006 [
2
] and since then three other capability measures have been developed: The ICECAP-A (for the general adult population) [
3
], the ICECAP-SCM (for use in the context of supportive end of life care) [
4
], and the ICECAP-CPM (to assess the well-being of 'close persons' in the context of end of life care) [
5
].
The ICECAP measures have each been developed to assess well-being and are therefore relevant for use in contexts where a focus on health functioning alone is likely to present a partial or misleading picture of the benefits of an intervention. As an example, the Zorginstituut in the Netherlands recommends the inclusion of ICECAP alongside EQ-5D for the evaluation of interventions in long-term care, where the relevant outcomes extend beyond health [
6
]. In 2013, the National Institute for Health and Care Excellence (NICE) in the UK extended its remit to include social care and when publishing guidance on the methods for economic evaluation of social care, NICE suggest the use of capability measures, including ICECAP [
7
].
Tariff values have been elicited for ICECAP-O from a sample of older people in the UK using best-worst scaling [
8
]. Values are anchored on a scale of zero (no capability) to one (full capability), and hence, the ICECAP-O cannot be used to calculate quality-adjusted life years, where the scaling is that of zero (dead) to one (full health). Valuation reflects an intentional differentiation from cost-utility analysis, with a conceptual alignment instead to the Capability Approach of Sen and Nussbaum [
1
,
2
,
8
].
As the ICECAP-O has now been in the public domain for over a decade, we present a systematic review of studies which have either assessed the psychometric properties of the measure, or have used the measure to collect data.
Methods
A systematic search of the literature was undertaken to identify studies which had assessed the psychometric properties of the ICECAP-O or reported use of the measure in economic evaluation. Methods were based on the UK Centre for Review and Dissemination (CRD) guidelines [
9
] and the Cochrane Handbook for Systematic Reviews [
10
]; results are reported in line with the Preferred Reporting Items for Systematic Reviews and Meta-Analyses (PRISMA) guidelines [
11
].
Scoping search and preliminary research
A background scoping search was undertaken in May 2017, which included searches conducted using study names from the ICECAP-O study database.
1
The list of papers identified in this way was used to inform the development and refinement of the definitive search terms and strings by checking whether or not search terms detected these key papers. The scoping search suggested that only a limited number of studies have been undertaken to date, indicating that using deliberately broad search terms would maximise the number of studies captured (high sensitivity). However, using the term 'ICECAP' alone would not be feasible due to the large number of irrelevant papers identified. The scoping search also revealed that many papers that report having used ICECAP-O do not mention the measure in the title, abstract or keywords.
Identification of relevant studies
The search strategy (informed by the earlier scoping search) aimed to identify all studies that have assessed the psychometric properties of ICECAP-O or used the measure to collect data for inclusion within economic evaluation. It was designed to be as inclusive as possible whilst also being feasible. A search of electronic databases was undertaken in October 2018 and involved using the following predetermined keywords:
ICECAP-O

ICEPOP

Investigating Choice Experiments
Seven databases were searched: SCOPUS, PUBMED CENTRAL, ProQuest Science and Technology, EMBASE, CINAHL Plus, Nursing and Allied Health Database and ProQuest Social Sciences Premium Collection. The search terms were combined using the Boolean logic term 'OR' to keep the search broad.
The first paper reporting the development of the ICECAP-O was published in 2006 [
2
]; therefore, the search results were limited to material from January 2006 to October 2018. No restrictions were imposed in relation to study participants, interventions, study design or setting, and both published and unpublished materials were included. Given the scoping search revealed that many studies which have used ICECAP-O do not make reference to this in the title or abstract, the search was expanded to cover full texts where the database allowed for this.
Identified papers were then compared with those located in the scoping search, to identify any papers not captured by the electronic database search. Manual searching of the reference lists of papers selected for review was also undertaken, to identify any additional relevant studies. The search strategy was reviewed by a medical librarian.
Study selection
The process for study selection comprised of the following two stages (screening and then assessment of eligibility).
First, records were excluded as not relevant if they were:
published as a conference

abstract

only (no full text available);

not published in English;

Provided a commentary only or reported a study design other than an assessment of psychometric properties or an economic evaluation;

a full-text paper that did not contain at least one of the search terms of interest, in the title, abstract or main body of the paper.
Remaining papers were read in full and assessed against the inclusion criteria. Papers were included if they reported a study that had done at least one of the following:
assessed the psychometric properties of the ICECAP-O;

used the ICECAP-O to measure outcomes for economic evaluation (including pilot and feasibility trials);
The search revealed that sometimes the same study was reported in more than one paper. The unit of interest in this review is studies rather than papers; therefore, papers sharing the same author, trial registration number, study name or study settings were identified and cross-referenced to link together multiple reports of the same study.
Data extraction
Two data extraction forms (Supplementary Table 1) were developed; one for studies assessing psychometric properties of ICECAP-O and one for studies using the measure to collect data.
Analysis plan
Given the anticipated diversity of studies (in terms of objective; the country within which data was collected; the population group; and intervention (where relevant)), a narrative synthesis was used [
9
]. Studies were initially categorised as those:
Investigating psychometric properties of ICECAP-O

Reporting use of the ICECAP-O in economic evaluation
Following initial, textual description of the two categories of studies, those in the first category were further grouped using headings and terminology from the COSMIN taxonomy [
12
]:
Validity (further defined as: criterion, content and construct)

Reliability (commonly test–retest)

Responsiveness (defined as the ability of a measure to detect clinically important changes resulting from an intervention [

13

])
Results from studies reporting on validity, reliability and responsiveness were summarised in tabular form, with textual discussion of the relationship between studies. Evidence of a relationship was determined by the size of the correlation
p
value at the following levels [
14
]:
p

 > 0.1: no significant evidence of a relationship

0.1 ≥ 

p

 > 0.01: weak evidence of a relationship

p

 ≤ 0.01: strong evidence of a relationship
Results
Discussion
The number of publications assessing psychometric properties appears to have peaked in 2014, with a shift in emphasis now towards use of the measure within economic evaluation. It can reasonably be expected that interest in ICECAP-O, particularly since its inclusion within the NICE reference case for social care, will continue to increase.
Unsurprisingly, much of the research identified through this review was conducted within the UK (the country in which the measure was first developed and the only country, so far, within which a set of tariff values have been elicited from the population [
8
]), but research on and utilising the ICECAP-O has also been conducted across Europe and in English speaking countries such as Australia, Canada and the USA.
Generally, this review has identified evidence that ICECAP-O has good construct validity and responsiveness. Some papers have reported issues relating to content validity, but this issue appears to arise when respondents who have a clear medical need and have been recruited into a trial or other study because of having such a medical need, focus on that immediate medical need and consider broader aspects of quality of life (particularly relating to attachment and enjoyment) as being less relevant. Hence, this may largely be a contextual phenomenon.
Although there were promising findings from studies assessing psychometric properties from Europe, Canada and Australia, consideration should still be given as to whether attributes incorporated within ICECAP-O are culturally relevant for non-UK contexts as the measure is used in new settings, and whether the language is culturally appropriate even within non-UK English speaking contexts.
Reporting of results from ICECAP-O has, so far, been secondary to the reporting of results from health related measures such as EQ-5D (3L and 5L). Reporting of results for ICECAP-O has therefore tended to be brief, often with no discussion or interpretation of results. One factor that may be limiting the use and more rigorous reporting of results from ICECAP-O is the lack of guidance with respect to a decision-rule: whether (and how) capability well-being should be combined with time, and on what basis an intervention is judged to be cost-effective.
Five studies combined the ICECAP-O score with time, with each using different terminology. Whilst the phrases 'An improvement from no capability to full capability' and 'Years of well-being' are accurate and appropriate, these are just some of the variety of terms being used, and such varied terminology will be unhelpful in the long term. Mitchell et al. [
71
] and Goranitis et al. [
72
] have adopted the terms 'years of full capability' and 'years of sufficient capability' for ICECAP-A, and work is ongoing to identify a sufficient state of ICECAP-A and accompanying monetary threshold for a year of sufficient capability [
73
]. In line with these contributions, we would encourage use of the term 'years of full capability' by those using ICECAP-O in the short to medium term. What is clear, at present, is that terms such as 'capability QALY' are conceptually inaccurate and misleading, as the tariff values for ICECAP-O are not anchored on a scale from dead to full health.
Sufficiency represents an alternative normative approach to maximisation (as adopted in cost-utility analysis) and hence adoption of sufficiency would represent a further, significant, shift towards the ICECAP-O being used as a tool within a distinct conceptual framework. A significant programme of future research would be needed to identify a sufficient state of well-being, as defined by ICECAP-O. The issue of an appropriate monetary threshold would also potentially need to be addressed.
Compliance with ethical standards
Conflict of interest
PK declares that he receives and processes User Agreement Forms for the ICECAP-O. LP declares that she has no conflict of interest. CM declares that she has no conflict of interest.
Ethical Approval
This article does not contain any studies with human participants or animals performed by any of the authors.
Open Access
This article is distributed under the terms of the Creative Commons Attribution 4.0 International License (
http://​creativecommons.​org/​licenses/​by/​4.​0/​
), which permits unrestricted use, distribution, and reproduction in any medium, provided you give appropriate credit to the original author(s) and the source, provide a link to the Creative Commons license, and indicate if changes were made.
Publisher's Note
Springer Nature remains neutral with regard to jurisdictional claims in published maps and institutional affiliations.
Footnotes
1
Those intending to use the ICECAP-O are requested to submit a User Agreement Form and information from that form is stored on a database.