01-06-2014 | Beschouwing | Uitgave 6/2014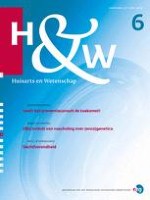 Huisarts en glazen bol: voorspellen op het spreekuur
Tijdschrift:
Auteur:

dr. Geert-Jan Geersing
Belangrijke opmerkingen
UMC Utrecht, Julius Centrum voor Gezondheidswetenschappen en Eerstelijns Geneeskunde, Universiteitsweg 100, 3584 CG, Utrecht: dr. G.-J. Geersing, huisarts (tevens Onze Lieve Vrouwe Gasthuis, Praktijk Buitenhof, Amsterdam). Correspondentie: g.j.geersing@umcutrecht.nl. Mogelijke belangenverstrengeling: niets aangegeven.
Samenvatting
Geersing GJ. Huisarts en glazen bol: voorspellen op het spreekuur. Huisarts Wet 2014;57(6):298-301.
Een belangrijk deel van het werk van de huisarts op het spreekuur bestaat uit het maken van schattingen: hoe groot is de kans op (ernstige) ziekte? Predictieonderzoek – meer bepaald: diagnostisch predictieonderzoek – biedt de huisarts de mogelijkheid die kans zo nauwkeurig mogelijk te bepalen. Niet ieder predictieonderzoek is echter geschikt voor gebruik in de huisartsenpraktijk. Van belang zijn de populatie waarin het is uitgevoerd (homogeen of heterogeen?), het aantal diagnostische variabelen dat wordt meegewogen (èèn enkele testuitslag of een beslisregel?) en de referentietest (hebben alle onderzochte patiënten er een gehad?).