01-04-2011 | Empirical Research | Uitgave 4/2011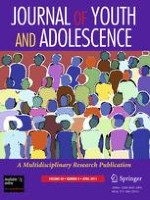 How Do I Feel About Feelings? Emotion Socialization in Families of Depressed and Healthy Adolescents
Tijdschrift:
Auteurs:

Erin C. Hunter, Lynn Fainsilber Katz, Joann Wu Shortt, Betsy Davis, Craig Leve, Nicholas B. Allen, Lisa B. Sheeber
Abstract
Emotional and cognitive changes that occur during adolescence set the stage for the development of adaptive or maladaptive beliefs about emotions. Although research suggests that parents' behaviors and beliefs about emotions relate to children's emotional abilities, few studies have looked at parental socialization of children's emotions, particularly in families with depressed adolescents. The present study examined associations between parent and adolescent meta-emotion philosophies (MEP), defined as thoughts, reactions, and feelings about their own emotions. Additionally, adolescent depressive status was tested as a moderator of relationships between parents' and adolescents' MEP. One hundred and 52 adolescents, aged 14–18 (65.8% female), and their parents (148 mothers, 106 fathers) participated in a study on emotion socialization in families of depressed and healthy adolescents. Depressed adolescents (
n
= 75) and matched healthy adolescents (
n
= 77) were recruited based on research criteria for mental health status. The sample was largely Caucasian (82%) and of middle socioeconomic class status. Results indicated that mothers' and fathers' MEP about their children's emotions were associated with adolescents' MEP, although parents' MEP about their own emotions was unrelated to adolescents' MEP. Fathers' MEP about children's emotions made unique contributions to adolescents' MEP across both adolescent groups. Adolescents' depressive status moderated the relationship between mothers' and adolescents' MEP such that mothers' MEP was particularly relevant for depressed adolescents. The continued influence of parents in the emotional lives of adolescents is discussed as well as differences in emotion socialization in families with depressed and healthy adolescents.