08-10-2018 | Original Article | Uitgave 5/2018 Open Access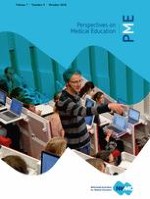 How clinicians integrate humanism in their clinical workplace—'Just trying to put myself in their human being shoes'
Tijdschrift:
Auteurs:

Amanda Lee Roze des Ordons, Janet Margaret de Groot, Tom Rosenal, Nazia Viceer, Lara Nixon
Abstract
Introduction
Humanism has been identified as an important contributor to patient care and physician wellness; however, what humanism means in the context of medicine has been limited by opinion and a focus on personal characteristics. Our aim was to describe attitudes and behaviours that enable clinicians to integrate humanism within the clinical setting.
Methods
We conducted semi-structured individual interviews with ten clinical faculty to explore how they enact and experience humanism in patient care and clinical teaching. Interpretive description was used to analyze the data qualitatively.
Results
Humanism in medicine was described through five themes representing core attitudes and behaviours: whole person care, valuing, perspective-taking, recognizing universality, and relational focus. Whole person care involved recognizing the multiple dimensions of personhood and sensitivity to others' needs; valuing involved respecting and appreciating others; perspective-taking consisted of considering others' perspectives, suspending judgment, and listening; recognizing universality involved acknowledging the shared human condition, finding common ground, transcending roles, and humility; and relational focus was described through multiple relationships between patients, families, clinicians and learners, becoming part of another's story, reciprocal influence, and accompaniment.
Conclusions
Whereas previous descriptions of humanism have focused on clinicians' personal qualities, our research describes a number of attitudinal and behavioural foundations of humanistic care and teaching, grounded in the experiences of clinical faculty. In drawing attention to the holistic and relational elements of humanism, our work highlights how these foundational elements can be more explicitly integrated into patient care, workplace culture, and clinical education.