17-11-2018 | Original Article | Uitgave 3/2019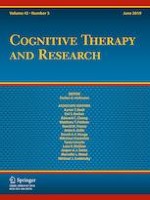 Hopelessness: A Network Analysis
Tijdschrift:
Auteur:

Igor Marchetti
Belangrijke opmerkingen
Electronic supplementary material
Abstract
Hopelessness is a complex phenomenon with important clinical consequences, such as depression and suicidality. Despite its major impact on mental health, little is known about the structure of hopelessness. In this study, hopelessness was investigated in a large community sample (n = 1985), recruited to be highly representative of general population in Germany. In the context of network analysis, state-of-the-art techniques were adopted (i) to investigate which thoughts and beliefs (nodes) are the most central ones and (ii) to shed light on the specific associations (edges) among them. Stability and accuracy were also checked to ensure trustworthiness of the findings. The analyses revealed that expecting more negative than positive future events and having important goals blocked along with feelings of giving-up were the most central elements of hopelessness. Moreover, being unable to imagine the future and perceiving it as vague and uncertain were both coupled with anticipating a dark future. Theoretical and clinical consequences of this study were discussed.