01-02-2013 | Artikelen | Uitgave 1/2013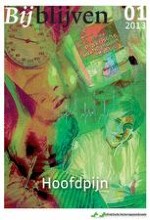 Hoofdpijn: een scan?
Het door de huisarts inzetten van beeldvormende diagnostiek bij hoofdpijn
Tijdschrift:
Auteur:

Dr. P.H. Dijksterhuis
Samenvatting
Huisartsen krijgen in Nederland geleidelijk de mogelijkheid CT- en MRI-scans aan te vragen voor hun patiënten.
De kans dat een CT- of MRI-scan bij alleen hoofdpijn een relevante afwijking oplevert is zeer klein, bij ouderen is de kans op een afwijking iets groter. Vergelijking van de opbrengst van hersenscans aangevraagd door huisartsen of specialisten met scans verricht in het kader van een bevolkingsonderzoek, leidt tot de conclusie dat deze scans bij niet-acute hoofdpijn niet om klinische redenen zijn aangevraagd, maar zonder duidelijk diagnostische indicatie ter geruststelling.
Een scan ter geruststelling bij een patiënt met hoofdpijn zonder neurologische afwijkingen lijkt zinloos en dus schadelijk medisch handelen: het veroorzaakt economische en klinische kosten door de stralenbelasting van de CT-scan; tegenover vijftien behandelbare tumoren die met de scans worden gevonden zou één nieuwe kanker ontstaan. De MRI-scan duurt lang en de magneet heeft op sommige patiëntgebonden apparaten zoals een pacemaker een ontregelende werking.
Wanneer de arts of patiënt het niet vertrouwt, is het juister om de patiënt met hoofdpijn naar de specialist te verwijzen. Deze zal ook volgens klinische richtlijnen werken, die een hersenscan bij alleen hoofdpijn in het algemeen afraden. Het blijkt voor de richtlijnopstellers moeilijk om onomwonden te zeggen: afzien van een scan bij niet-acute hoofdpijn zonder neurologische afwijkingen.