01-02-2013 | Beschouwing | Uitgave 2/2013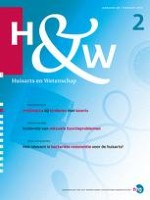 Hoe relevant is bacteriële resistentie voor de huisarts?
Tijdschrift:
Auteurs:

Prof.dr. Theo Verheij, Prof.dr. Marc Bonten
Belangrijke opmerkingen
Professor of Molecular epidemiology of infectious diseases
Potential conflicts of interest: none declared
Samenvatting
Verheij ThJM, Bonten MJM. Hoe relevant is bacteriële resistentie voor de huisarts? Huisarts Wet 2013;56(2):66-8.
Bij urineweginfecties en huidinfecties moeten huisartsen rekening houden met de mogelijkheid van bacteriële resistentie tegen antibiotica, bij luchtweginfecties speelt bacteriële resistentie nog nauwelijks een rol. Toch blijft waakzaamheid geboden, want in het buitenland is gebleken dat ook bij luchtwegpathogenen de hoeveelheid voorgeschreven antibiotica duidelijk verband houdt met bacteriële resistentie. Een terughoudend beleid ten aanzien van antibiotica blijft buitengewoon belangrijk.
MRSA en ESBL-producerende bacteriën zijn in de Nederlandse huisartsenpraktijk zeldzaam. Het risico van besmetting na een verblijf in (buitenlandse) ziekenhuizen is laag, maar de hoge prevalentie van resistente stammen in de intensieve veehouderij noopt tot waakzaamheid.