12-09-2016 | Original Paper | Uitgave 11/2016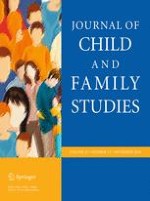 High-Risk Behavior Among Young Adolescents in The Central and Northern Region of Peninsular Malaysia: Baseline Data from The MyHeART Study
Tijdschrift:
Auteurs:

Nik Daliana Nik Farid, Abqariyah Yahya, Nabilla Al-Sadat, Maznah Dahlui, Tin Tin Su, Nithiah Thangiah, Muhammad Yazid Jalaludin, Hazreen Abdul Majid, MyHeART Study Group
Abstract
The onset of high-risk behaviors in adolescents are associated with family, social and behavioral factors. This study aims to describe the prevalence of high-risk behaviors among young adolescents in Peninsular Malaysia and determine the relationship between high-risk behaviors and family sociodemographics and behaviors. The data utilized are from the Malaysian Health and Adolescents Longitudinal Research Study, a prospective cohort analysis conducted in three large states of Peninsular Malaysia: Selangor, Perak, and the Federal Territory of Kuala Lumpur. The sample included 13-year-old adolescents in their first year of secondary school. Students and parents or guardians were given separate, standardized self-administered questionnaire. A high-risk behavior variable was determined on the basis of exposure to substance use (tobacco, alcohol, and illicit drugs), gambling, and online pornography or violence. The exploratory variable of interest (family sociodemographics) was defined as parents' demographics, employment status, education level, and socioeconomic status. The analysis included 1341 adolescents and 1146 parents. Of the school-going adolescents, 4.7 % (
n
 = 52) reported HRBs. Tobacco use (9 %,
n
 = 1 19) and watching pornography or violent content on the Internet (5 %,
n
 = 72) accounted for most of the behaviors, whereas illicit drug use contributed the least (2 %,
n
 = 32). More adolescents from the higher socioeconomic groups, than from the middle groups exhibited high-risk behaviors (odds ratio  = 3.039, 95 % confidence interval = 2.884–3.202); by contrast, the odds ratio of high-risk behavior among adolescents with a low socio-economic status was 2.246 (95 % CI = 2.014–2.397). Future intervention programs for adolescents should focus on overcoming high-risk behaviors and sustain behavioral changes.